Jewell escapes two match touchline ban.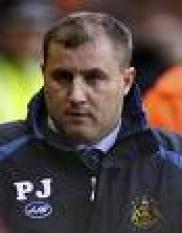 By Neil Gunner
March 22 2007
Paul Jewell has escaped immediate touchline ban getting away witha a 2 match suspended for 12 months ban instead. Also he has received a £2000 fine as part of the punishment after the outragous refereeing antics at the Emirates stadium against Arsenal. This has been a rather drawn out enquiry with both sides of the argument being heard. The chairman of the panel however did praise Paul Jewell for his excellent conduct that he shows week in - week out.

Jewell has released the following statement :" I would like to thank both the FA and the panel of what I felt was a fair earing. I am please that they have listened to my side of the story taken on board my feelings.

"I always felt that I had a strong case and this proved to be so as to the amount of support that I have received from staff, players and fans alike"

Jewell is glad that this whole saga is over and can get back onto what he and his team do well - winning matches.

Don't forget to checkout our brand new PODCAST launched this week. This is one of our brand new features brought to you by us - by the fans for the fans.

Just go to http://paralatic.podbean.com/ to navigate to our podcast page where you can listen in a stand-alone player as we review the Fulham game, the MFE and perform the greatest play since Macbeth.

Get into it.......