Feindouno Turns From Hero To Villan In Guinea Win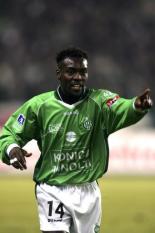 Pascal Feindouno
By Mark Heys
January 24 2008
Bolton Wanderers transfer target Pascal Feindouno turned from hero to villan in the African Nations Cup earlier on this evening when helping Guinea to a dramatic 3-2 win over Morocco at the Ohene Djan Stadium in Ghana.
The St Etienne midfielder claimed two goals and one assist in the game, but was red carded for a unnecessary foul moments after scoring what proved to be the matchwinner from the penalty spot.
Wanderers boss Gary Megson is beleived to have sent chief scout Colin Harvey over to the tournament with particular interest being shown in Feindouno and but for the dismissal the reports sent back to England are sure to be favourable.
Feindouno is rated around the £3 million mark and is more of a playmaker than an out and out forward.
More Bolton Wanderers headlines
Bolton Wanderers Poll