MOORE HITS SIX AS VILLA RUN RIOT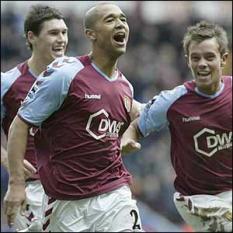 By Ryan Ghee
July 27 2005
Aston Villa ran riot in Sweden by scoring 14 goals past a stunned Gallstad FK. Luke Moore, a half time substitute, hit six second half goals as they humiliated the Swedish part-timers. Aston Villa started the match brightly with Angel and Hendrie both coming close in the opening minutes. Villa did open the scoring after 7 minutes and it came when Nobby Solano calmly slooted home after good work from Gavin McCann. Solano doubled the lead just 9 minutes later when he produced a stunning free-kick from the edge of the box which nested in the top corner of the net. The flood gates well and truly opened just 60 seconds later when Angel added a third and Kevin Phillips grabbed his second goal for the club less than a minute later. Both players went on to grab a second goal each before the interval and Villa went in at half-time with a very comfortable 6 goal lead.
At half time, David O'Leary made 9 changes with Moore and Vassell replacing Angel and Phillips up-front. Only minutes into the second half, Moore came close to adding a seventh for Villa when he saw his header bounce back off the upright.
After 6 second half minutes, Gallstad came close to getting a goal of their own when Berglend saw his 40-yard effort narrowly miss the target.
Luke Moore opened his tally on the hour mark and added an eigth goal for Villa 9 minutes later when he converted a penalty which he had won himself. Hendrie got his name on the score sheet in the 70th minute of the match and Luke Moore completed his hat-trick two minutes later.
Liam Ridgewell headed home for Villa in the 75th minute and Luke Moore added three more goals to the tally in the final quarter of an hour.

In the post match interview, Luke Moore was very modest. Rather than praising his own performance, he turned his attention to Kevin Phillips and spoke of his admiration for the new signing. He claimed that Phillips "is the best finisher I've seen" and he added that he is an "unbelievable" player.

In a similar fashion, David O'Leary refused to get carried away with the result. He described the match as a "useful training session" and said that he won't read too much into the result because the opponents were only part-timers. He went on to say, "The games will get harder as the pre-season progresses and I'm pleased with the way things are going so far."