Lennon lets himself down again.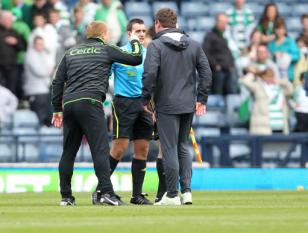 Lennon remostrates
By Graham Barnstaple
April 15 2012
Celtic Manager Neil Lennon has let himself down again with his behaviour at Hampden this afternoon.
Lennon was his usual self on the touchline during the game, snarling at decisions that went against him and then celebrating in an over the top style when his side equalised.
But this was nothing compared to his behaviour at the final whistle when he charged on to the field to confront ref Euan Norris. The reason for this was his belief his side was denied a last minute penalty, although TV pictures are inconclusive whether Webster had handled or not.
His assistant Alan Thomson was sent into the Media Room to talk to the press, and he explained all Celtic were looking for was consistency. He felt if the ref had given Hearts a penalty, which they felt was awarded wrongly then he should have been consistently wrong!
Lennon did not speak to Sky or the BBC as well as the written media, but did have his say on twitter later on in the afternoon, saying, "Referee told players he thought Wanyama handled...feel so sorry for players and fans..I think it's personal myself"
This should see him in ever more trouble with the SFA, but beyond that it is reprehensible any SPL manager can think officials are picking on them. Referees simply make bad decisions but as they see them without looking to spite anyone.
We see this in games every week of the season, while managers may complain they don't take it responsibly. It is surely time someone atCelticParktook hold of their manager and stopped the mentality which has many believing they are "Never beaten, always cheated." One day they will lose with grace and dignity.
Also, it makes me laugh when earlier in the week Lennon wanted to be compared to Jock Stein. His behaviour would be seen as an embarrassment to the great man and he should look back to how he handled defeat as well as victory.