Rebels without a clue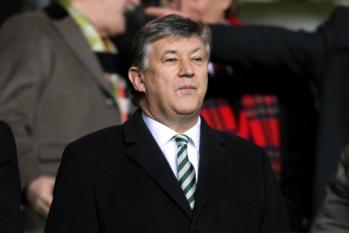 Lawell
By Graham Barnstaple
March 23 2012
So says Celtic Chief Executive Peter Lawell as the other ten teams prepare to take on the Old Firm.
The ten non Old Firm teams have been meeting in recent weeks to look at making the SPL more democratic and moving the power away from the twoGlasgowgiants.
They are looking to remove the 11 to 1 voting rights to 9 to 3, thus moving the power away from the Old Firm and making things more transparent and democratic.
This has prompted Lawell to pronounce this is "disrespectful" to meet without the Old Firm, or at least Celtic. This seems to have made the other teams become rebels, I am note sure how the majority can be seen as the rebels, but that is another matter.
The Celtic Chief Exec is also playing hardball by refusing to cooperate with the new Sky deal and therefore impacting the finances of the SPL for next season.
You then get back to the disrespectful comment, is what the 10 are doing any different from the Old Firm talking about moving to England or joining an Atlantic League. NO IT ISN'T and at times it is hard to stomach the hypocrisy of Lawell.
Lawell is also dangling a carrot of league reconstruction again, but not the 10 team league discussed last season but a 14 team league with a 6/8 split at the end of the season.
This seems strange as only a year ago we were told that the 10 team option was the only way forward and the clubs had to vote for that.
You just wish we could have people running the game who weren't in it either for themselves or for their club alone, hopefully good sense will prevail and peace will break out once again, but I am not holding my breath.
View a Printer Friendly version of this Story.
Rebels without a clue
Flower of Scotland (IP Logged)
23/03/2012 09:03
What do you think? You can have your say by posting below.
If you do not already have an account
Click here to Register
.
Sorry, only registered users may post in this forum.