"F**K OFF CHELSEA FC WE AIN'T GOT NO HISTORY"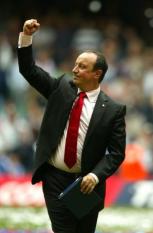 By John Christie
November 27 2012
The reception Rafa received from the Chelsea fans was not surprising, but still very embarrassing for him. The reasoning for such a bilious welcome for their new manager is, for a Liverpool fan, nonsensical. He's been called a "clown" and a "loser", get over yourselves. He's a winner who, given half a chance, will dominate English and European football.
It's been compared to Grahams takeover at Spurs, were your bitterest rival/neighbour takes control of your club. This is the reasoning, but the fact is, LFC and CFC have never been arch enemies. If Maureen was to turn up at Anfield (doubtful now I know) he would be accepted because we know he's a winner. We clashed over the space of about four years when Rafa was our manager, this was to be expected as both were top teams built by young talented managers, great meetings they were too. Both managers used every psychological trick in the media to gain an edge.
Chelseafans may believe LFC to be their enemy but I'm afraid to say its unrequited hate, always has been ,always will be. Everton and Manchester United be our natural foes. If youChelseafans are so embittered take your pitchforks to Mr Abromovich, this is his doing, not Rafas.
To the KOPChelseaare just another competitor fromLondon, we just ain't got no history.