RAFA (MONEY CANT BUY YOU LOVE)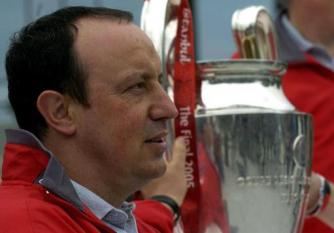 By John Christie
November 24 2012
I always remember after the first euro semi at Anfield, Terry and co were broken in tears on the pitch. Abromovich however was grinning like a Cheshire cat, clapping along with crowd, totally swept along with the euphoria.
Abromovich liked what he saw, he felt that night, no surprise he chased Stevie, Torres and now Rafa. Maybe he should have bought us, butChelsea's his club.
The holy union between the manager and the kop is unique at LFC; nowhere else do managers have so many banners and songs dedicated to them. Rafa got us and we got him, he was a genius with the limited resources he had.
The more the xenophobic English media hated him, the more we loved him. Good luck Rafa, you're going to need it down there. Abromovich will learn money can buy you most things in life but not the most important things.
As one of the many banners proclaimed that night
"MONEY CANT BUY YOU LOVE"
View a Printer Friendly version of this Story.
RAFA (MONEY CANT BUY YOU LOVE)
Mighty Reds (IP Logged)
24/11/2012 00:51
What do you think? You can have your say by posting below.
If you do not already have an account
Click here to Register
.
Re: RAFA (MONEY CANT BUY YOU LOVE)
Westminster William (IP Logged)
24/11/2012 08:43
Money couldn't buy King Kenneth a football team either but at least you all still adore a bloke who has knocked your team back 5 years (and out of Europe)
Re: RAFA (MONEY CANT BUY YOU LOVE)
24/11/2012 14:29
Hicks and Gillet messed us up and no one else.