'Suarez, One of Best Players in World Football' Carragher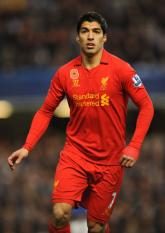 By Mighty Reds
November 13 2012
Jamie Carragher has described LFC player, Luis Suarez, as one of the best players in world football. Suarez was signed from Ajax in January 2011 for 22m,
Carragher said:
"I've said for 12 months now that he's the best player in the Premier League, because he's maybe not playing alongside the kind of players that the Chelsea players can play alongside.
"He's one of the best players in world football and we are delighted to have him.
"There's always that question, I think being asked unfairly, of whether he scores enough goals. But isn't he the top scorer in the league at the moment?
"And that's in a team that hasn't won that many league games this season, don't forget."
In answer to people saying Liverpool were a one man team, Carragher said.
"People say we're dependent on Suarez, but Lionel Messi atBarcelona, Cristiano Ronaldo at Real Madrid – every team will have a stand-out player, and Luis is one of them, not just in the Premier League but in the world."