Rovers Open with Away Game at Walsall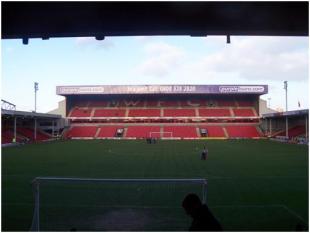 By Deadly Submarine
June 19 2013
The fixtures for the 2013/14 season have handed a relatively short opening day away trip for Rovers to face Walsall.......
The fixtures for the League One season for 2013/14 have been released and Tranmere have been handed an opening day away fixture against Walsall on Saturday 3rd August. This is followed up of course by the midweek Capital One Cup home tie at home to newly promoted League Two side Mansfield Town before a home game against Crawley Town on Saturday August 10th.
The festive season sees Rovers playing away both on Boxing Day and 29th December at Shrewsbury Town and Sheffield United respectively before they host newly relegated Wolverhampton Wanderers in the first game of 2014 on New Years Day itself. Ronnie Moore's men will round off the season at home to newly promoted Bradford City on Saturday 3rd May.
Rovers Travel to Shrewsbury on Boxing Day
Other notable fixtures for Rovers include the away game against newly relegated Wolves on Tuesday 26th November which is just three days after Rovers travel to the Midlands to face Coventry away whilst Rovers face fellow relegated side Bristol City at home on Saturday 16th November and away on Saturday 15th February.
Over Easter, Rovers face a long trip away to Gillingham on Easter Saturday (19th April) and then host Sheffield United at home on Easter Monday (21st April). Finally Rovers will make their first ever visit to Rotherham's new Stadium on Tuesday October 22nd.
A full list of Rovers' fixtures for 2013/14 are available HERE.
More Tranmere Rovers headlines
Tranmere Rovers Poll