Cup Coverage: FA Cup Third Round Preview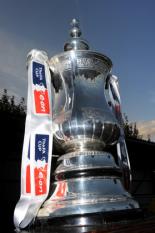 By Henry Hudson
January 3 2013
As Tranmere prepare to face Derby County in the third round of the FA Cup on Saturday afternoon, Henry Hudson takes a look ahead to the key games in the third round and gives us his predictions for all of the ties in the round.....
Tranmere Rovers - FA Cup Winners 2013. That's what we hope we will be hearing at the end of the season as Ronnie Moore lifts the most famous trophy in the English game as Rooney and Giggs lay sprawled out in tears on the Wembley pitch knowing they had just been given a true beating.
Of course there are a few more rounds to pass through before starting to consider getting the 'TRFC FA Cup Winners' emblazoned on to the back of the white jerseys. To start off with Derby County away will be an incredibly tough test for Rovers. County are stable, some may say stagnant, in the Championship as they seem to have been for a while now. However I will not put down the Rams as they are a good team that can play good football and will be strong favourites for this clash.
Rovers may come up against Derby's Will Hughes on Saturday
One player to watch out for in the Derby side is Will Hughes. With hair like everyone's favourite village idiot, Boris Johnson, the teenager has raised a few (thousand) eyebrows with his performances this season. His ability to pick out passes that others would not even think of will certainly trouble Rovers.
Current Premiership leaders Manchester United travel to the 1964 and 1980 FA Cup winners West Ham in one of ITV's two televised games. In the last cup bout between these two teams, West Ham upset the odds to thrash an inform United 4-0 in one of the most surprising results of the 2010/11 season. Last time the teams met at Upton Park was in 2011 prior to West Ham's relegation when Man United came from behind to win 4-2 with Rooney scoring a hatrick and controversially swearing into a camera with millions watching on the TV.
The current Championship leaders Cardiff City travel to non-league side Macclesfield Town. Despite being relegated last season in last place Macclesfield did do well in cup games. They won at Hull City in the Carling Cup before narrowly being beaten at Bolton. In the FA Cup they drew at home to then Premier League side Bolton Wanderers (after wins against East Thurrock and Chelmsford) before eventually losing the replay. Cardiff of course reached the FA Cup Final in 2008 and of course lost a tight Carling Cup Final last season to Liverpool.
The only other Welsh team left in the competition are Premier League side Swansea City who host Arsenal in one of ESPN's three games over the FA Cup weekend. Swansea beat Arsenal earlier in the season at the Emirates thanks to a double from Michu. The last time these two sides faced each other in the FA Cup was in 1968 where the Gunners won 1-0 at the Swans.
Hastings United, who are the lowest ranked team left in the competition, face a tough trip to Middlesborough, who themselves were runners up in 1997. Hastings have already beaten Bishop Stortford and Harrogate to get this far. This will be United's biggest ever match and if they were to even take the Riverside men to a replay, it would be considered as a monumental achievement.
Struggling Wolves will be looking for a much needed win at Conference side Luton Town
Luton town are the non-league side with arguably the best chance of progressing to round four as they host out of sorts Wolverhampton Wanderers at Kenilworth Road. Wolves sold out their allocation of tickets well in advance of this encounter and the fierceness of both sets of fans will create an amazing atmosphere. Despite being beaten by Woking on New YearsDay, the Hatters will fancy their chances on Saturday.
One of the more eye-catching ties of the third round is Mansfield Town v Liverpool. It has been twenty three years since a non-league side beat a top division side in this famous competition with Sutton United's victory over Coventry still in the memory of all and in particular the followers of the Surrey side. Mansfield are a team many Premier League fans would not have heard of but they will have alot of the country behind them.
Liverpool have an illustrious history in the Football Association competition but in recent times they have become the root of all footballing gags because of their below par signings, and dramatic dips in form.Mansfield, who are famous for their poor treatment of away fans, will of course be massive underdogs and Liverpool will be expected to win with ease. Five years ago Mansfield did reach the fourth round only to lose at home to Middleborough on that occasion.
Whilst I have previewed the highlights of the FA cup fixture list for this weekend above, below are my full predictions for all the third round matches:
Brighton 0-1 Newcastle
Aldershot 1-1 Rotherham
Aston Villa 1-0 Ipswich
Barnsley 0-1 Burnley
Blackburn 2-0 Bristol City
Bolton 0-0 Sunderland
Charlton 1-2 Huddersfield
Crawley 0-3 Reading
Crystal Palace 0-1 Stoke
Derby 1-1 Tranmere
Fulham 2-0 Blackpool
Hull 3-0 Leyton Orient
Leeds 0-0 Birmingham
Leicester 4-0 Burton Albion
Luton 0-3 Wolves
Macclesfield 0-3 Cardiff
Man City 5-0 Watford
Middlesbrough 6-0 Hastings
Millwall 3-0 Preston
Nottingham Forest 2-0 Oldham
Oxford 0-2 Sheffield United
Peterborough 1-2 Norwich
QPR 0-0 West Brom
Sheffield Wednesday 2-1 MK Dons
Southampton 0-4 Chelsea
Southend 0-0 Brentford
Tottenham 5-0 Coventry
Wigan 3-0 Bournemouth
West Ham 0-4 Manchester United
Swansea 3-0 Arsenal
Mansfield 0-5 Liverpool
Cheltenham 0-6 Everton
View a Printer Friendly version of this Story.
Total Tranmere (IP Logged)
Cup Coverage: FA Cup Third Round Preview
03/01/2013 19:58
What do you think? You can have your say by posting below.
If you do not already have an account
Click here to Register
.
Re: Cup Coverage: FA Cup Third Round Preview
03/01/2013 21:17
The FA cup winners 2012 have already been decided-Chelsea?
See if my predictions are even worse than yours
Brighton 2-2 Newcastle
Aldershot 1-2 Rotherham
Aston Villa 2-0 Ipswich
Barnsley 0-0 Burnley
Blackburn 3-1 Bristol City
Bolton 1-2 Sunderland
Charlton 2-1 Huddersfield
Crawley 2-1 Reading
Crystal Palace 1-1 Stoke
Derby 3-1 Tranmere
Fulham 2-2 Blackpool
1Hull 3-1 Leyton Orient
Leeds 2-1 Birmingham
Leicester 3-1 Burton Albion
Luton 1-1 Wolves
Macclesfield 1-4 Cardiff
Man City 2-1 Watford
Middlesbrough 4-0 Hastings
Millwall 1-1 Preston
Nottingham Forest 3-0 Oldham
Oxford 1-1 Sheffield United
Peterborough 2-4 Norwich
QPR 1-2 West Brom
Sheffield Wednesday 0-1 MK Dons
Southampton 2-2 Chelsea
Southend 2-1 Brentford
Tottenham 4-2 Coventry
Wigan 1-2 Bournemouth
West Ham 2-2 Manchester United
Swansea 2-1 Arsenal
Mansfield 1-3 Liverpool
Cheltenham 1-2 Everton
I've only got one score correct all season in the prediction league so there's very little chance of these being right!!
Edited 1 time(s). Last edit at 2013:01:03:21:19:54 by Hoots Mon.
Sorry, only registered users may post in this forum.
More Tranmere Rovers headlines
Tranmere Rovers Poll