Ronnie Post-Match: "The Whole Game Was Sloppy"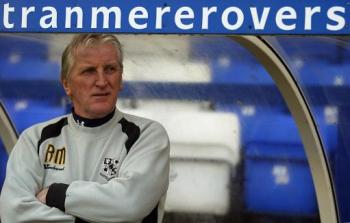 By Deadly Submarine
April 21 2012
After a pretty poor Rovers performance at home to Hartlepool United on Saturday afternoon which ended in a 1-1 draw and a red card for goalkeeper Owain Fon Williams, Manager Ronnie Moore described the performance as sloppy....
Rovers Manager Ronnie Moore was quick to describe his side's performance against Hartlepool as sloppy and used the same word to describe the goal that Rovers conceded after a dire 1-1 draw at Prenton Park on Saturday afternoon.
Speaking to Tranmere Player after the match, Ronnie Moore said...
"It was strange. To get the keeper mixed up with Goody - there's something not quite right there. The fourth official is talking to me, then he's shouting to the referee that he's got it wrong and he has to change everything. In the end he got the right decision. If you give the decision then you've seen it. He's seen the keeper come out surely? I know it's difficult because they look alike, Fonners and Goody, so maybe that's where he's made the mistake."

"As far as I could see they were never going to score. It's come from a poor ball in from Wallace, a miss kick clearance from them and they've gone from one end to the other and we were naïve. It just needed a tackle. It was a sloppy goal and I think the whole game was sloppy. That's what disappoints me. They were sloppy in training yesterday and I had a pop at them, I had a pop at them before the game about wanting to finish as high as we can, yet they take a point off us."
"But we dug deep when we had to in the end and I think they'll think it was a fair result. The two centre halves didn't know whether to stick or twist today and if they'd been better we'd have lost. The lad had a free header at the end when Goody should have had him. It was Goody's mistake that got Fonners sent off. But it gives Andy a little chance now."
"It's another point on the board and that's the big thing. As long as we learn from games like this...if we keep the ball better we win the game, it's as simple as that."
"Ash has got to go into hospital to have an operation. He'll be missing and that's his last game of the season. He's got a calcium problem that needs to be corrected and the sooner the better. It will take two to three weeks for him to settle down then he has to have tablets for the calcium. It's a medical problem and he's been playing with it for some time and it does make him tired."
More Tranmere Rovers headlines
Tranmere Rovers Poll