Walsall v Tranmere Rovers Match Discussion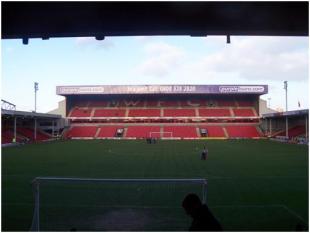 By Deadly Submarine
April 13 2012
If you can't make Tranmere's game away at Walsall on Saturday afternoon, why not join in the banter right here with other Rovers fans who are unable to attend......
For those fans who can't make some of the Rovers games this season, particularly the more costly and time consuming southern away games, we at Total Tranmere will be providing a Match Discussion Thread on the Site for every Rovers game.
The thread will allow you to discuss everything from the pre-match build up and starting line-up to the game it as it progresses and the post-match analysis.
Where possible, Total Tranmere staff will post up the starting line-up and substitutes on the thread as soon as it is made known at the game as well as a half-time report on how the game is going for the benefit of those who are unable to make it.
Tranmere of course, make the trip to Walsall on Saturday afternoon in NPower League One so if you're not going to the game why not join in the banter right here while the game is going on?

Maybe if you have a friend or family member texting you from the game you can post their views here for others to see as the game progresses.
You could also use this thread to discuss other interesting scores throughout the league as well as discussing this game afterwards if you have been along to the game.
What you discuss below is up to you but hopefully it can all be focused on one thread to make it easier for everyone to use.
Admin staff will try and add the team and updates on the game on this thread where possible whilst there will also be our usual update service from our Twitter feed @totaltranmere so if you are not already following us it may be worth doing so!
More Tranmere Rovers headlines
Tranmere Rovers Poll