SEVENTEEN Players Off To World Cup 2006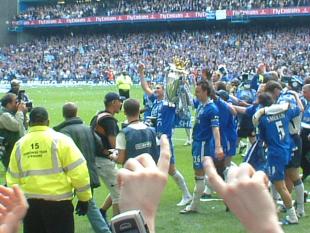 Any1 4 A Treble
By 40 Years A Blue
May 16 2006
Seventeen contracted Chelsea players have been selected to represent their respective countries in the 2006 World Cup Finals to be held in Germany, which kicks off in no time at all.
For England - John Terry, Wayne Bridge, Frank Lampard and Joe Cole
For Czech Republic - Goalkeeper Petr Cech
For Germany (Host Nation) - New signing Michael Ballack and defender Robert 'HOOOOOOOOOOOOOTH' Huth
For Holland - Arjen Robben
For Ghana - Michael Essien
For France - William Gallas and Claude Makelele
For Portugal - Paulo Ferreira, Ricardo Carvalho and on-loan Maniche
For Ivory Coast - Didier Drogba (Ivory Coast's Captain)
For Spain - Asier Del Horno
For Argentina - Hernan Crespo
An absolutely staggering amount of International players of class that Chelsea Football Club has at their disposal, and although this site want England to do extremely well (hopefully win the competition), but with 'Gormless' and the squad that he has chosen England's dreams will probably end in early early tears, we wish ALL Chelsea players the very best and hope for an injury free time in Germany.
COME ON CHELSEA!
ANYONE FOR A LEAGUE TREBLE?
BACK TO BACK CHAMPIONS!!!