Liverpool 2-2 Chelsea: Ain't No Friend of Ours!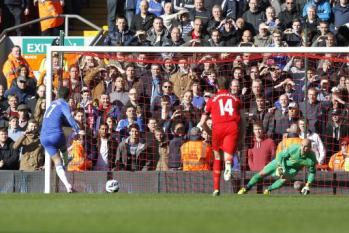 By Since66
April 22 2013
Bite me, bite me. Last Sunday David Luiz endured a pair of studs down his back from Aguero, the ref did nothing, neither did The Sweet FA. Yesterday Sturridge went in on Bertrand's ankle studs up, Friend and his mate (closest to the incident) did nothing. Suarez the cannibal, reprising the role of Hannibal, tried to take a chunk out of Ivanovic's arm failing dismally.
Friend's mate, yep the same one (closest to the incident) did nothing, said nothing and didn't wave anything and he had the perfect bird's eye view of the shenanigans going on in front of him.
If substitutions and goal celebrations are the main reasons why time is 'added-on' at the end of each half, how come Friend thought it was appropriate to blow the final whistle as soon as Chelsea kicked off.
What happened to the extra 30-45 seconds spent whilst Liverpool were celebrating their equaliser?
I am just fed up with the quality of the officials that Chelsea have been served up recently and to add insult to bloody injury, Mark Clattenburg has been appointed to take charge of the home game against Swansea on Sunday.
You really cannot make it up!!
Liverpool: Reina, Johnson, Carragher, Agger, Enrique, Gerrard (c), Lucas, Downing (Shelvey 79), Henderson, Coutinho (Sturrridge h-t), Suarez.
Goals: Sturridge 51, Suarez 90 PLUS SEVEN MINUTES
Booked: Henderson 28, Lucas 53, Suarez 55, Carragher 63, Shelvey 81
Chelsea: Cech (c), Azpilicueta, Ivanovic, Luiz, Bertrand, Ramires, Mikel, Hazard (Benayoun 78), Mata (Lampard 90), Oscar (Moses 83), Torres.
Goals: Oscar 25, Hazard 57 pen
Booked: Torres 37, Azpilicueta 52
NEXT UP: Basel (a) Europa League Semi-Final 1st Leg, Thursday 25th April 2013, k.o. 8.05pm.
COMING UP: FA Youth Cup Final 1st Leg v Norwich City (a), Monday 29th April 2013
COME ON CHELSEA
View a Printer Friendly version of this Story.
Liverpool 2-2 Chelsea: Ain't No Friend of Ours!
50 Years Over 100 Years (IP Logged)
22/04/2013 18:32
What do you think? You can have your say by posting below.
If you do not already have an account
Click here to Register
.
Re: Liverpool 2-2 Chelsea: Ain't No Friend of Ours!
Landon (IP Logged)
22/04/2013 18:58
I would imagine no time was added for the celebration because the time ran out at the time of the last kick-makes sense no?

As far as having Clattenberg for your next match-is there anyone that your outrage doesn't apply to? Or is it just Clattenberg and Friend? I predict there are more.
Re: Liverpool 2-2 Chelsea: Ain't No Friend of Ours!
Anver (IP Logged)
22/04/2013 19:54
Hi all you can see Rafa was only interested in the time during his interview , he did not watch the biting incident what was he watching I am sure he was watching the Kopp end and the Supporters so that he can count on the support for A Liverpool come Back. He is really trying hard to get Back so he will not say anything about Liverpool.
Roman should get rid of him , he kept the two stalwarts warming the Bench , Rafas team selection against manvhester City cost CFC the FA cup now it will cost the championship place . Go Rafa before you do more damage to our Beloved Chelsea.