Tottenham Preview: Twice in Three Weeks!?!?!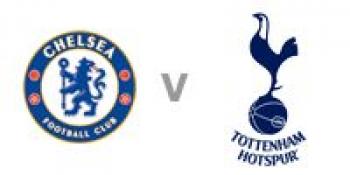 COME ON CHELSEA
By Since66
March 24 2012
In a possible dress rehearsal for the FA Cup semi-final at Wembley in just over three weeks, Chelsea take on Spurs at Stamford Bridge in a must win game to keep Chelsea's hopes for a minimum 4th place finish alive. After the midweek defeat at Citeh, Chelsea have to bounce back and look to finish the rest of the season unbeaten.
I hate stats, facts, figures and general footballing coincidences but every time this fixtures crops up I immediately think that Spurs haven't won at The Bridge in 20 odd years and you can't help thinking that one day Spurs will prevail.
I hope it's not today and that Spurs will have to wait another year to try again!!!
For the first time in his short tenure Di Matteo HAS to look into the eyes of each and every player to see if they are UP for it, as some were not UP for it the other night and there have been a lot of strolling around performances this season.
Stroll around today Chelsea, and Spurs will pick you off despite their recent run of results and form and not forgetting the anguish suffered at the events at White Hart Lane last weekend.
Chelsea welcome back the 'One England Captain,' John Terry, Leader and Legend, perfect timing, as Chelsea are off to play Benfica in the 'Corrupt Cup' quarter-final 1st leg on Tuesday night.
COME ON CHELSEA
TWITTER: @WVOMChelsea
View a Printer Friendly version of this Story.
Tottenham Preview: Twice in Three Weeks!?!?!
50 Years Over 100 Years (IP Logged)
24/03/2012 07:47
What do you think? You can have your say by posting below.
If you do not already have an account
Click here to Register
.
Re: Tottenham Preview: Twice in Three Weeks!?!?!
B to the P (IP Logged)
24/03/2012 09:17
Big game today. Due to Spurs' points advantage and easier fixture run in this game is pretty much must win for you guys.

Having said that we've been in terrible form lately, a point would be massive for us to keep the gap to 5.

Will be watching the match with my Chelsea supporting brother-in-law and asIsaid to him yesterday It'll finish 2 nil to Chelsea, a header from Terry/Cahill/Luiz and another from Ramires or Mata.

Hopefully we'll get Lennon and Ade back by the time we potentially met in the Cup. Couple of wins under our belt before then wouldn't hurt either.