Paolo Maldini offered key role at Chelsea by Ancelotti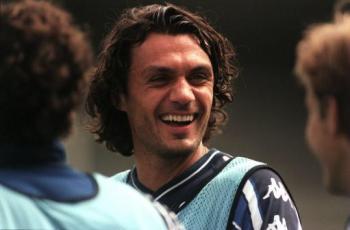 By dixon9
June 11 2009
Today's Corriere della Sera reports that Carlo Ancelotti has offered Paulo Maldini the role of "Team Manager" at Stamford Bridge. Maldini is seriously considering the offer and accepting it would also involve bringing his family over to London – the "only obstacle" according to the Italian newspaper.
"Team manager" is described in the report as "the role of the leader who acts as a connection between the dressing room and the management". The "management" almost certainly encompasses Carlo Ancelotti and his assistant coach and possibly members of the football board of the club such as Frank Arnesen.

"Escape" from Milan

Interestingly and perhaps surprisingly, Maldini, 41, is said to be preparing his "fuga" to Chelsea – "fuga" translates as "escape" and the term is probably used as Maldini is currently making no bones about the fact that he is extremely disappointed at Milan. He has spoken out against the transfer of Kaka, the attitude of Milan suits and what he no doubt perceives as a lack of respect from the directors over a future position at the club.

"Kaká is the first player of this level to be yielded from the club. His sale is an ugly blow for the players and fans," said Maldini yesterday.

"Kaka is amongst the best five players in the world yet it turns out that the other four don't leave their clubs – certainly not to come to Milan." (Well, it looks as if Ronaldo might finally be on his way…Ed).

"Certainly, to think about being able to win the Champions League without Kaká is utopian."
Maldini then went on to criticise Leonardo citing his lack of experience in football and in the philosophies of Milan:

"He never coached a team – not even the juveniles."

And then on to his own future:

"For the moment, my future is concerned with my family."

"I have received various proposals – from the sponsors of the club for example – but from Milan, nothing and I do not want a façade, meaningless position."

Mr Charisma

Personally, I quite like the idea of Maldini coming to the Bridge although of course his arrival is no foregone conclusion. He would have no problems in assisting Ancelotti in the role of getting our new manager's ideas across to the players (he speaks fluent English), he would act as an extra two-way conduit between the players and Ancelotti if required and of course, is a figure who would instantly command respect from the squad.

Maldini is said to be a charismatic figure which would help maintain good man-management at the club and this aspect of his character may also mean that he could take the odd press conference (no doubt he might also be a favourite with any neutral housewives!).

My only concern is that would appointing Maldini have any implications with regard to the future of Ray Wilkins at the club? Hopefully not. Wilkins would probably continue assisting the manager at training sessions, preparing analysis reports on our rivals and speaking on behalf of the club at some press conferences as he did last season.

Original Report:

http://www.corriere.it/sport/09_giugno_11/colombo_maldini_milan_chelsea_05bfc9a2-5652-11de-82c8-00144f02aabc.shtml

Video (in Italian!):

http://video.corriere.it/?vxSiteId=404a0ad6-6216-4e10-abfe-f4f6959487fd&vxChannel=Sport%20Videonews&vxClipId=2524_5063e420-5652-11de-82c8-00144f02aabc&vxBitrate=300
View a Printer Friendly version of this Story.
Paulo Maldini offered key role at Chelsea by Ancelotti
50 Years Over 100 Years (IP Logged)
11/06/2009 13:10
What do you think? You can have your say by posting below.
If you do not already have an account
Click here to Register
.
Re: Paulo Maldini offered key role at Chelsea by Ancelotti
12/06/2009 01:02
...and turns us down:
LINK
.
---
"It is born out of hypocrisy and fundamental insecurity. There have been two kids on the block for the past 12 years. Suddenly, there is a third and that one is threatening to be more successful than the others and they don't like it." P Kenyon.
Re: Paulo Maldini offered key role at Chelsea by Ancelotti
12/06/2009 05:57
Would set the hearts of the women fluttering, if he came
---
Don't Gamble, Bet Risk Free