Gunners Drink to Beat UEFA CL Nights Alcohol Ban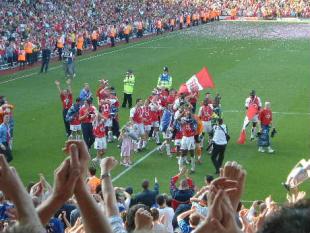 Celebrate
By Boris Mellor
April 1 2006
Until very recently it has not been possible for Arsenal fans to buy alcoholic beverages on Champions League evenings. This is part of the annoying UEFA rules and regulations, which include cutting the capacity by 3000, for these matches.
However Arsenal are now getting around these regulations by selling a high-quality specialist schnapps at a high price. Arsene Wenger's father in his restaurant in the Alsace region made this high-quality drink popular. Although of French citizenship Wenger's family has a German background, and the family restaurant has a tradition of selling fine German cuisine and drinks.
It was in the cellar of the family restaurant that Wenger senior discovered, and skilfully blended a wonderful mix of spirits and spices. Creating his own distinct schnapps which is so loved by locals in this region. With a base of Sicilian Bergamot (a variety of fine pear) and spices of pepper and nutmeg it means that the drink hardly needs its 80% alcohol proof content to give you a warm glow on a very cold night. Just the thing for the football fan.
Now Monsieur Wenger senior has had his wonderful drink especially bottled and labelled to be on sale in the Arsenal shops. The reason that UEFA are allowing this fine drink to go on sale is that it costs £25 for a very small bottle. So they believe it will not be a temptation for the binge drinker, or hooligan, but rather a treasured delight for the connoisseur of Champagne, fine wines, gold foil wrapped top bottled lagers, and other such drinks. True at 80% proof it's got quite a kick in it; but it would probably cost £100 just to get slightly merry. Of course the fact that 10% of all sales will be donated to the UEFA retired footballers and officials fund may have some bearing on the decision.
The drink is now selling in all fine food emporiums such as Fortnum and Masons, and the Harrods food hall. But now you can get your own bottle on match nights, just ask for a bottle of Arsenal 1886 in the Arsenal souvenir shops. You will not be disappointed. I suspect one is all you will need.