Pancake men Ė time for a new receipe?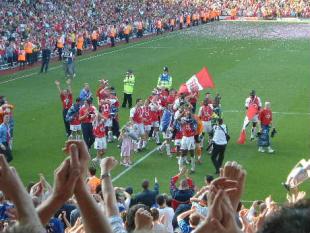 Celebrate?

By AJ The Gunner
January 28 2006

For every good home result the Gunners have had this season, there is, almost, an equally dire result away from home. AJ the Gunner asks is it just the lack of strength in the squad? Or can something be done to solve the problem.

Wenger

says the team lacks confidence away from home, "I feel we have to muscle our game much more away from home. We have to become much more physical. We need to find a response by the end of the season because we have been punished hard by not doing it."

So far the response has been six Premiership defeat away from Highbury. - The squad flip flops - playing well at home and awful away. Naive and school boy defending, and individual errors, have been our bane this season. Unable to comeback from a goal down and win a game, only against spurs did we come back from a goal down to draw.

Often the lament is how we dominated the game yet were unable to win. As Henry said after the league cup match against Wigan "Football is not dominating. We did enough in the game to go through and played tremendously at times. We cannot just rely on good football and playing well, we need to come out with the win"

The defence concedes the same goals in the same way and is yet to achieve consistency. Five clean sheets in a row, fantastic attacking football and Bam! We are back to shambolic defending and losing games again. Winning teams defend well especially in games when itís difficult to score. To be blunt, a team that cannot win their away games are not worthy of playing in the Champions League (Although thatís exactly what Liverpool did.Ed).

When the season started Wenger assured fans this wasnít a transitional season, even though Gunners were worried about our inability to find a replacement for the tough tackling Vieira. Now Arsene has finally accepted this is a transitional season, but the transition has gone too far. (Maybe he didnít want to alarm us as to his real plans this season) We have heard all sorts of excuses as regards the state of our football but none so far explains how this season will be a SACRED SEASON.

We battled hard with the 4-5-1 formation to claim the 2005 FA Cup, although not used to that formation. Wenger promised it was a one off as his philosophy is attacking football. But in the wake of our midfieldís inability to cope with the pressures of dominating games, he has resorted to playing the 4-5-1 or 4-3-3 formation, which has seen the goals dry up away from home. How can this formation work when we donít have the right blend of players, plus the fact that the players in general are lacking the necessary character to get the results? Lining up attacking players who are not ready to do the battling involved, and lacking a player to effectively protect a shaky back four, will not get the job done. What will get results in the absence of the right blend of players is to share determination and concentration, so as not to make defensive errors.

Where is that grit and determination that won us that FA Cup? The resources werenít there that day. However the team showed that there is another aspect of the game; that sometimes when you do not play well but you have solidarity and mental unity in the team you can still win.

Itís embarrassing to keep moaning how the physical approach with which teams "bully" us to win, is not Ďproperí football. Granted some of these teams are practically playing rugby (Newcastle), and the Referees are not doing anything about it. What do we expect these teams to do? Play us at our own game and get battered? We have not been beaten by brilliant teams who had better players or skills than us, but by teams who showed determination, spirit and fight, playing for their shirt. Credit should go to these teams because often they too had key players absent; had lost several games in a row before playing us, yet they had the zeal to battle on for the three points they badly needed. I hate to mention Man Utd but they beat Chelsea, and Liverpool, without a tough tackling defensive midfielder, or with a very solid defence. For crying out loud they had a striker playing in their midfield against Chelsea, yet they were able to raise their game, dig deep and get the results needed.

Letís for once forget about how unbalanced our team is, or how we are still lacking a combative tough tackling midfielder or another central defender. Where is the steel, or the leadership?

We have dropped points away from home simply because we have not yet found an answer to teams using the long ball over the top, high tempo, high pressure on the ball, physical challenges and getting into the area at every opportunity. Whatever the result at Bolton, that is not the main concern here, I am more worried about who of our players is ready to battle on for the Champions League spot, and prevent our season from becoming a nightmare. Who are the warriors who are willing to cast aside their individual selfish desires and fight for the pride of ARSENAL FOOTBALL CLUB?

Nonetheless, we must not think or imagine that Wenger is not worried, or doesnít care, about our present state. He is rebuilding the squad and itís make or break. Either he fails or he gets it right in the end. But make no mistake, his reputation and Arsenalís reputation is on the line, so letís give some credit to a manager who has achieved all he has in 9 years, and that he must know what he is doing.