Why are attendances falling?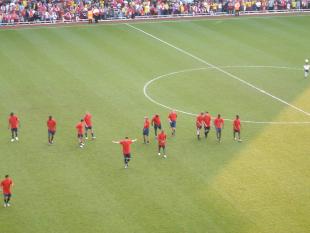 By AJ The Gunner
October 24 2005
In the week that saw 11,000 empty seats at Chelsea for a Champions League game AJ the Gunner discusses whether this will become a general trend, and what the causes are.
Wenger has echoed what is becoming the obvious; the Premiership is in danger of losing its appeal because of a lack of adventurous attacking football.
He has voiced his concern when he stated: "I'm very concerned. I feel the attraction of English football has always been positive but now the trend is to attack less. If this starts to get into the brain of football it will go downhill quickly. If everyone refuses to play then we will go nowhere in this league.''
As a result of this shift in English football from an emphasis on attack to defense, Statistics show that top flight games this season yield an average of just two goals, which is one of the lowest in Europe. Obviously the cautious approach of many English teams is killing the game built on attack. Here in Arsenal Times this issue was raised in the article "Anti- Football boring into the game. By Danny"
Presently there is a new twist to this defensive stance by Premiership managers which Wenger has warned is becoming a turn-off because this negative tactics is killing football and in effect driving crowds away from the game.
Frankly the number of teams using 4-5-1 formations because they are too scared to attack, and desperate to win is producing very boring games which I feel is part of the reason the Stadiums are no Longer Full.
Some may argue that the high pricing of tickets are responsible for the low turn out by fans, but it has not been cheap to watch your team in the Premiership since it began. Rather the issue is who will be willing to cough out the ever-increasing amount of cash to watch their favorite team play a defensive and boring game week in week out.
Even MOURINHO whose Chelsea is the supposed flavor of the times, admitted that they are pricing their own fans out of Stamford Bridge after thousands stayed away from their Champions League opening night. What did he expect when Chelsea are the kings of negative football. Itís pure logic, why should the fans pay such high prices (nearly £50 for a basic seat) when the game will be so defensive, with little to excite and thrill them. Bolton rarely has a full stadium and you canít say they play attractive football. Even Steve McClaren was disappointed at the attendance for Middlesbrough's opening Uefa Cup tie. Blackburn Rovers blamed the distance to Cardiff for their poor turnout in the FA Cup Semi Final. They could hardly admit their boring football was possibly the cause.
Going by my argument, without intending arrogance, who wouldnít pay to watch Arsenalís quick passing breath taking football? The majority of the fans Arsenal has attracted since we signed Wenger is because of the beautiful way Arsenal play the game. Arsenal plays a brand of attacking football that has thrilled a lot of football lovers. Most football pundits and analysts have admitted they will pay money any day just to watch the Gunners, simply because of the way we play football.
Perhaps high-ticket prices have driven some fans away, and as a result the stadiums are no longer filled to capacity, but wouldnít fans prefer to watch a live match between two attacking teams? One; it would be very entertaining. Secondly it would be money well spent. Good attacking football definitely attracts a larger turn out of fans than defensive football.
Itís just plan and simple, negative football is boring and I for one wonít go to watch it no matter how cheap the ticket price is. Thank Heavens Arsenal play the football everyone loves to watch.