The striker Arsene didnít sign:Get behind the team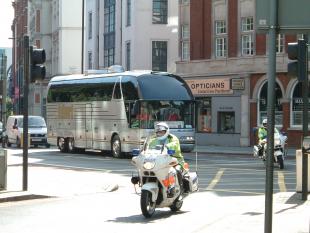 Coach

By
October 24 2005

Arsene Wenger admitted he nearly signed a striker on the last day of the transfer window, but it didnít happen. He didn't say why it didnít happen, but he went on to say that he has faith in the continued development of Reyes, van Persie, and Quincy to fill the need for a support striker for Henry.

He also believes that in time they could go onto play the main striker role. With Henry out injured there will be a big chance for at least one of them to prove their worth at Middlesboro.

Yet the fact that Wenger only made one big name signing during the transfer window has driven some fans into deep despair, a few even think Arsene has lost the plot. In the article below AJ the Gunner argues that this negative approach could be damaging, that its now time to get behind the team:

Time to get behind the team in sacred season

The International world cup qualifiers have come and gone. For Arsenal it had been 2 weeks of no premiership football. We are back to the title race at long last, and are set to play away to Middlesbrough tomorrow, The Champions League and Carling Cup is about to kick off, this season has got going at last; but something about the attitude of some fans is causing me concern.

Granted fans were buzzing about players they wanted to see pull on the redcurrant jersey, but with the August transfer window shut till January, and Arsenal not buying as many players as fans wanted; plus ArsŤne failing to land his prime target, we must now forget about these disappointments. We should focus on our present squad till January presents Wenger with another opportunity to strengthen the squad; if he feels that is necessary.

Fans may have their doubts or fears, just as I have mine, but I find it difficult to comprehend why there seems to be such a black cloud of depression and panic among some fans after just three games into the season. I attribute this mood to pessimism created by reports in the media, which some fans have fallen sucker for, as they painted a picture of doom and gloom about Arsenal. Itís like we are being brainwashed by the tabloids, who measure a team's potential on the amount of money they spend on players.

We as Fans need to consider the negative effect this atmosphere could have on some of our players and take swift action to change this prevailing mood of doom and gloom. Really if fans are feeling this disillusioned that the transfer window closed without a big name signing then what impact do we expect this to have on the squad. What message are we sending out to our youngsters? AW has invested in young players who will most definitely fulfill their potential. They will gain experience playing in the first team against more notable & established opposition.

The club has invested in a new stadium, and as Arsenal fans we have invested not only our money, but also our faith, loyalty, and support, and over the past few years ArsŤne has produced great results on such little budget. So now is not the time to allow doubts of this magnitude to envelop us.

The continual onslaught of pessimistic posts from Gooners is getting more depressing by the day; and even though I have been guilty of such pessimism on one or two occasions, I have since repented when I realized all the positive signs that can make this season a great one. Frankly all this doom and gloom is bound to rub off on our team in the wrong way. After the game against Chelsea Wenger said we lacked a fraction of belief but we must try to be as objective as we can. Where will this belief come from when fans are already feeling so negative about the season?

We must remember what an impact a positive and believing home crowd can have on their team. Look at how Liverpool fans cheered their team on, which was ravaged by so many injuries last season, to Champions League victory. They were on the verge of being beaten but the famous "Youíll Never Walk Alone" raised their team in to producing the required 3 goals to see off Olympiakosí or perhaps the even greater come back against the mighty Milan. It is never easy to come back from being 3 goals down against a Milan side, but the Fans backed their team to clinch the winner.

Wenger has declared "My hope and conviction is that we are building something here along the lines of what United did. Their exceptional generation of young players reached new levels and it's up to my young players to prove they have what it takes. I think they have, but they have to show me they have the hunger. There's no question they have the quality. Take the likes of Fabregas, Van Persie, Reyes, Flamini and Senderos. They are brilliant players, as are Clichy and Eboue. My job is to convince my players they can be the best."

WE as fans must remember that there is power in positive thinking, so itís about time we forget all our summer disappointments, and focus on how to cheer our squad back to the form that saw them go 49 games unbeaten. Let us start believing in our squad, and as Thierry stated itís up to this Squad to write a new era. We must start showing those media pessimists that we are behind our squad 100% , and ready to back them all the way to our final game at Highbury. Remember this is supposed to be a sacred season so letís fulfill our part in making it sacred.