Latest Progress at Ashburton Grove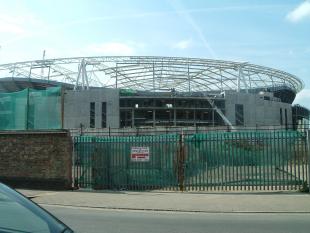 New Home
By JJCronin
February 13 2006
Passing the new Arsenal stadium these days you cannot but be overwhelmed by the progess that has been made, and the sheer scale of it all. For the benefit of supporters who live too far away to see how its going Arsenal Times Photographer took these photos on 26 July 2005.
Arsenal Times roving reporter JJCronin checked up on the progress of the new stadium today.
26 July 2005
Makes the Pyramids look tiny.
Including the massive new stairway to the ground's front entrance.
Cherry Picking