Joy of Cesc - Tribute to Fabregas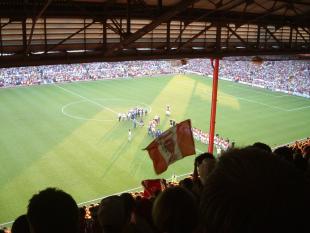 Flag

By AJ The Gunner
July 19 2005

Fabregas was voted second in Arsenal's official player of the season awards. AJ the Gunner pays her own tribute to the Arsenal's wonder kid.

"Heís only 17, heís better than Roy Keane,"

rang out from the Highbury faithful in Cardiff during the 2004/05 Community Shield. Fans watched in amazement as ArsŤne unleashed Cesc Fabregas to partner Gilberto in the absence of our inspirational Captain.

His strong, and mature, performance in that game against the likes of Scholes, and Keane, was breathtaking, for he bossed the midfield like a true veteran, which underlines his massive potential, and we almost forgot his age. Watching Fabregas you canít help but be in awe of such a precocious talent, especially when you consider that most 17-year-olds wouldnít be filling Vieira's boots with such ease.

As if that performance wasnít enough, he shone in the Premiership against Everton's combative midfield pair Lee Carsley and Thomas Gravesen, and he more than held his own; and from then on he was on such a roller coaster of outstanding performances that some fans forgot all about Vieira.

He has since turned 18 and holds 6 Arsenal records to his name; He became Arsenalís youngest ever player, and goals scorer, in the Carling Cup during the 2003/4 season. In the 2004/2005 season, he made 46 appearances, scoring 3 goals and became Arsenalís youngest ever Premiership player against Everton; and the Clubís youngest league goal scorer when he scored a 58th minute goal against Blackburn, as the Gunnerís broke the 42-game unbeaten run held by Nottingham Forest.

His record breaking was not over as he became the Club's youngest player in an European competition against Pananthinaikos on October 20, and also became the Club's youngest goal scorer in Europe when he scored a wonderful left footed volley by flicking the ball over the centre back with his right foot before coolly slotting the ball home in the 5-1 win over Rosenborg at Highbury.

What an achievement for a youngster whose astonishing pass completion rate, unbelievable maturity, and outstanding vision for both receiving, and distributing the ball makes him a delight to watch. For an 18-year old this vision and quick football brain, allows him to read the game brilliantly, seeing things early, and thus finding players with a pass that other players just canít see. These are qualities that make Bergkamp such an astonishing player, and to find these qualities in Fabregas gives us a sense of great expectations, and confidence for when the Dutch Master eventually leaves Arsenal. He must have developed these qualities at a tender age, as he said of his childhood:

"When I was younger I had to play against kids who were two years older than me. We would play on hard pitches, like concrete, and I was small, but I always kept trying even if I got hurt. That is part of my character. I like physical matches and it does not always matter how strong you are but how intelligent. If you are quick in your mind, that is the best thing because you can move the ball on quickly. I think I have already shown that I can adapt to the English game but, obviously, I can improve."

Wenger highlighted his abilities when he stated "he plays like a boy of 25 to 28 years for his assurance and mental strength. He has great resistance and doesn't pull out of any tackles" Even though Fŗbregas still lacks a bit of power, Wenger knows that it will come with time as he is still very young. He is not one of the tallest players but makes up for his lack of height by being very tenacious. Wenger further praised him when he said

"I am convinced he will be a great player. He just needs to mature physically. He just needs to get the zip on the pitch that you get when you are a little more mature. I admire his intelligence, his attitude and the way he plays for others. His work rate is tremendous. You know when you play football it can look very complicated, but the best sign of an intelligent player is making it look simple."

Thatís exactly what Cesc does; he makes football look simple. The Spanish coach Aragones, who angered every Arsenal fan over his racist remarks about Henry, got it right when he said before Fabregas turned 18:

"This kid will write golden pages in the history of football. That he would be competing at the age of 17 for a starting place at one of the most important clubs in Europe makes it clear he is one of a very few players of his type in the world."

I am convinced that had he been an English Player the English media would have gone into frenzy about his exceptional abilities; especially considering his young age. He should have been among the young players challenging seriously for the young playerís award. Itís much easier to find a talented striker at that age, but rare to find an outstanding midfielder competing at the level of veterans like Vieira, and that is what makes him one of the best players in the world in his age category. If the English FA would be honest, they would recognise one of the best midfielders in the Premiership based on his starts this season. We must not forget he got the better of our arch rival as his 2004/2005 season began in much the same way as it had ended, with a victory over Manchester United at the Millennium Stadium and the last earning him an FA Cup medal.

I feel a tribute to our wizz kid on Arsenal Times is a worthy diversion from all the transfer stories, and in line with the Fabregasí Week on Arsenal.com after the Spanish midfielder finished second in our Player of the Season poll. I will end by quoting Wenger when he stated, "Cesc Fabregasí football is a joy to watch."