Not a failure – forward to the sacred season.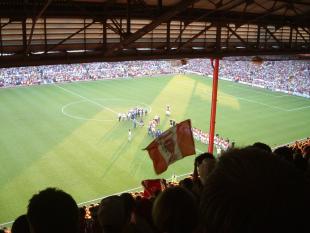 Flag
By AJ The Gunner
July 19 2005
With the 2004/2005 season ended and Arsenal finishing 2nd it was to be expected that the critics would judge us harshly. We had set such high standards during our 2003/2004 record-breaking season, going the entire season unbeaten on route to winning the Premiership Title.
Even though we achieved such a remarkable feat, it is still ridiculous for these football critics to claim that our 2004/2005 season was a failure. They have defined our last season campaign by three matches against Man Utd, and yet another disappointing European campaign, thus judging that the only way we would have made tangible progress would have been a sustained run in Europe. Since we failed that hurdle, yet again, and also failed to defend our 2003/2004 Title, their verdict was that we had failed in our 2004/2005 campaign.
Granted we failed again to win a back to back Title, and fell short in our European campaign, which was a disappointment to we fans, but to conclude that our season was a failure is simply over the top. Indeed we had such high expectations for last season, but with all the odds that were against us, plus injuries to key players, we still managed to achieve some highs to contradict these conclusions. In some ways last season had been a miraculous one for Arsenal to still finish 2nd, and win the FA Cup (and lets not forget who we beat to get it. Ed), considering the difficulties we faced, plus off the pitch sick strategies used by some opposition teams to destabilize us. Also, it has been a season that, in retrospect, may be seen as a vital one in the future development of Arsenal FC.
However, the main issue is that at the end of each season every club must include the positives as well as the negatives to determine how to measure the season, and when you apply that theory,Arsenal had success this season even though not to the heights of our expectations as a club. The positives, last season, for Arsenal are many and I would outline the vital ones which can be channeled into another title challenge for the coming season.
For the records the 2004/2005 campaign has proved to be one of the best under Wenger (surprise!). Our total point's haul of 83 is the third highest total recorded under Wenger and in 1997/98 the Gunners won the league title with five points fewer.
The Gunners have also topped the goals-scored table for the third year running and last season's total of 83 points with 87 goals and a +51 goal difference are the best yet under Wenger. For the 2003/2004 season we had 90 points with 73 goals and a +47 goal difference and in the 2002/2003 season we had 78 points with 85 goals and a +43 goal difference. However, though we conceded more goals last season, we had been more prolific up front and scored 14 more goals that even eclipsed our goals total from the historic 2003/04.
We must not forget that Arsenal has never finished outside the top two since Wenger has been in charge for a whole season, except when he first took charge of an Arsenal in October 1996, a season which ended with a third-place finish, the lowest under him.
Wenger has created at Arsenal, one of the best young, talented squads arguably in the history of the English game. This was proven last season in the Carling Cup run of our youthful team which only ended with a 1:0 semi final loss to Man Utd's who fielded a more experienced team.
The beauty of the youth of the players; Cole, Toure ,Flamini, Fabregas, Clichy, Senderos, Reyes, Van Persie (although a serious question mark hangs over this player), Hoyte, Quincy, Lupoli, Aliadiere and Eboue is that they are all aged 17-24. Fabregas was so impressive, and we must not forget that he and Flamini played in the heart of our midfield against Chelsea, and didn't crumble under the pressure; they ruled the game in the second-half, and earned special adulation from everyone. Senderos at 20 finally brought in stability to our weakend defense, which saw us concede only 4 league goals in the games he played. Van Persie scored 10 goals in his first full season at Highbury while Reyes, although faltered a bit after a good early start, found his game towards the end of the season. Also all the others named above put in great performances beyond their years.
These outstanding performances last season by our youngsters (considering that most of them were thrust into the first team due to injuries to key players) when balanced with the experience and class of Henry, Campbell, Vieira, Gilberto, Berkamp, Freddie, Lauren, Toure, Pires and Cole (if they stay). How can it be suggested that last season was a failure. After all, we finished 7 points ahead of a Man Utd that beat us twice in the season, and 12 points behind Title winners Chelsea who couldn't beat us at all. The points that we lost were mainly through individual errors at the back, and that was remedied towards the end of the season.
It is clear that Arsenal will be title challengers for many years to come. So with the long term future of the club all but secure what about next season?
The fact that our entire performance last season can be added to by a few top-notch new signings to compliment the squad suggests that next season is a season to anticipate. Wenger has assured us of this when he stated in his recent interview: "The last year at Highbury will be special because every game will be one we will never come back to play there. You feel it's a sacred season and we will be up for it".
So I suggest to every pessimists, or media hack to give Arsenal some credit for what we have managed to achieve last season as sometimes what one sets out to achieve may not be fully achieved but its disappointments can turn into blessings.