Jose Mourinho getting excuses in first.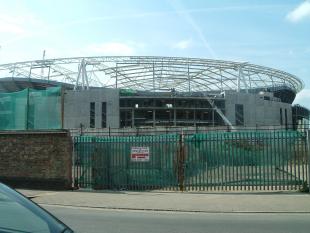 New Home

By AJ The Gunner
June 5 2005

Whilst Ferguson has been practising his mind games, fans may not have noticed that Mourinho was also at it. Why the mind games? After all he has won the Premiership so what's he fussed about? However AJ the Gunner argues that he is worried that he might not be able to repeat the feat next season:

Running Scared?

Is it possible that Jose Mourinho who led Chelsea to their first League Title in 50 years is already running scared of ARSENAL? Never mind all the crooked on and off the pitch strategies he used to earn Chelsea their supposedly deserved Premiership.

For a coach who claims to be the special one with his band of special expensive players, one wonders why he has started his sick off the pitch mind games before next season has started, and ARSENAL this time are his prime target.

Mourinho who thrives on having a dig at footballing authorities has again risked the wrath of the English FA by claiming that this season's Premiership schedule was stacked against his team, and in favour of Arsenal. This is a coach who has had series of confrontations with the sport's governing bodies after he was censured by Uefa for his role in the retirement of Anders Frisk, and is in the midst of a Premier League inquiry over the alleged tapping-up of Ashley Cole. In my opinion he simply has no respect for the authorities in charge of the game he claims he loves. Instead of finding a constructive case to present to the English FA about the League Fixtures, which requires clubs to play so many matches in consecutive days,

as compared to other leagues around Europe he is inciting the FA to ease Chelsea fixtures, and congest our fixtures for next season. (This has not favoured any English clubs who has played European games)

Quoting Mourinho "Chelsea is always the one who get the worst day, and the worst fixtures to play, and Arsenal always have the best one." In that period we had one day to rest, they had three. We want to play Saturday evening we have to play Saturday at 12 noon." They play Monday, we play Sunday. Nobody explains it to me, but I cannot say what I think, because if I say what I think I'm in trouble again and I don't want to be in trouble again."

For him to be suggesting such he must have an ulterior motive. This latest antics is a pure mind game strategy. If he honestly believed in the fairness of what he was claiming and didnít have any other motive then he would have verified his facts before coming up with such statements. Who in football wasnít aware of the league fixtures ARSENAL had to go through the season before this? We played 4 crucial games in 9 days which included an FA cup semi final and a Champions league quarter final, so what in the world is Mourinho complaining about (I donít remember any complaints from Chelsea then. Ed). Is he then suggesting that his high and mighty Chelsea shouldnít suffer the same fate as Arsenal did last season?

In my opinion, the logic behind these latest antics is to get the FA to work against Arsenal in their League fixtures for next season and go easy on his Chelsea. That way our schedule will be so tight that once again our small squad will barely be able to cope, especially if hit by so many injuries to key players like this season. Then to all effect the special one will benefit ones again from it. One will wonder why he has to come up with such talk, even though we all know by now that he doesnít bother with such tricky mind games with teams he knows are no threats to him.

Even in his proud mind, Mourinho knows how lucky he was that the odds were against Arsenal in the 2004/2005 season. He must be thinking that if he can get this issue against Arsenal then the chances of Chelsea retaining the title will be high. He must be running scared otherwise why single out Arsenal who have suffered the most with league fixtures? A man who came up with a pack of lies just to beat Barcelona in the champions league is prepared go to any length, that even his opponents cannot conceive, to get the circumstances to favour him. I hate to draw this analogy but he seems to be of the same calibre as Ferguson who also plays dirty. Wenger will never be caught playing such on and off the pitch mind games just to win games.

My word for him and Chelsea is that they won the Premiership this season, but they will have to find more substantial tactics than mind games to win it again next season because ARSENAL will be coming back even stronger.