Thierry a victim of his own success?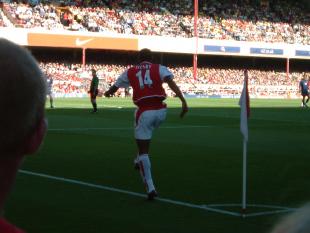 Henry
By AJ The Gunner
May 16 2005
Thierry Henry has become the very heart of Arsenal. A devastating striker with great vision, unbelievable skill, fantastic first touch, a dazzling dribbler, and cool in front of goal.
Even as a striker with such phenomenal speed he has managed an amazing number of assists. He has become a striker in a class of his own.
This great player has often carried the burden and the responsibilities of the whole squad squarely on his shoulders. Over the years we fans tend to forget that the burden of the whole squad should never be rested on one player. Arsene' summarizes this oversight when he stated
"For me Thierry is a victim of his own success. He spoils you so many times that if he does not produce when you expect him to then people go overboard on the other side. He is always under big pressure, scores goals for fun so when he does not deliver that people get used to asking what's wrong. You always have to consider that he is exceptional. The average person will not go on the pitch and score three goals against Portsmouth. "You cannot deliver in every game. Who can?" Wenger also said
"He is such a great player and his powers of recovery also; I think that it must be genetic. He lives such a clean life, he just lives football. He dedicates his free time to recover for the next game, doesn't drink and doesn't go out, either. If you ring him at ten o'clock, he will be in. He is 27 and the best is in front of him. He is amazing — his technical touch, his speed, his intelligence."
Henry on his part must be a man of great character to carry these responsibilities without feeling overburdened; while he constantly reminds us fans when he insists repeatedly with humility "Arsenal are NOT a one-man team. Football is always a team effort. You suffer as a team and you have joy as a team. It is not a one-man show. I think it is important that people are aware that without my team, I am nothing. Against Norwich, if the guys at the back do not pass well and the midfielders do not create space then things would be more difficult for me."
He used his dazzling first goal that Saturday as an example saying. "If I put it in they would say that is normal, if I miss people would say I am not fresh or whatever. "It is never enough and it has always been like that. Whether I played well or not, scored or not my Dad always told me it is not enough. So I don't mind it when people say it. It does not annoy me; it makes me laugh because it does not make any sense sometimes."
If Henry was ready to bear the brunt of the stick if Arsenal missed out on a spot in the Champions League quarter finals (we eventually did) after hinting he is an easy target even before the game saying" I know, once again, if we don't win it's going to be me who is blamed and I'm already preparing myself for that," it goes to show how much burden he is willing to carry for Arsenal and his team mates.
We need not doubt how much Henry loves our great club and wants what's best for us. Put simply, his loyalty is never in doubt. He is a player who treats his team mates with respect even when often in the field of play people have accused him of over reacting, throwing tantrums or the famous venomous glares when things don't go the way he wants. He has explained these reactions when he stated
"I may look bad on TV sometimes, but I have respect for the game and I may come across as bad in a game but it is not because I am not happy, it is just that it kills me if the game is not played as it should be played. "But I always go into the dressing room and say sorry, because I do not mean it. "I am never satisfied with myself as I am always thinking about what I did not do well. But if you ask the people in the dressing room, I like to laugh. But when I am on the pitch I am not there to laugh, I am there to play. I say that I am not upset on the pitch, it is just that I am focused on my game." I want you to understand why I do things on the pitch. If I look unhappy on the pitch, it is because I am unhappy about myself. "I will always try and progress; you can never be the best. To be the best is difficult to define and I will always try to improve as perfect is impossible to attain." He added: "I will never accept defeat. I will always strive to improve my game. Who wants to accept second best? Even when I play cards with my friends we have arguments because I want to win. If I see people going into a game and not trying to win, it does my head in"
As much as we fans know these weaknesses in him, I find it totally unbelievable that some fans have singled him out as the reason for Reyes' poor form. Some have drawn the conclusion that Henry doesn't like Reyes, often citing trivial incidents like when Thierry slid Reyes' hands off his shoulders after that thunderous goal against Manchester United at Highbury. Who doesn't know by now that Henry first acknowledges the player who gives him the assist before every other player? More recently his supposed bad behaviour towards Reyes in the game against Norwich where he indicated with his hands that Reyes wasted the ball instead of giving it to him has been cited. To think that he is accused of feeling threatened by Reyes is bad enough, but to also suggest that he is not supportive to our young recruits is damn right unfair.
Am I the only one who has observed Henry deep in discussions with our young players psyching them up, especially those who partner him up front, just before the referee blows the kick off whistle? He screams and waves his hands at Lauren, does the same to Gilberto, and even once or twice with Pires – a player you wouldn't think Thierry would overreact to. He also acts in the same way with glares at Aliadiere, and shrugs his shoulders at Quincy. But as soon as he throws his hands up at Reyes, people are quick to pick on it especially now that Reyes' is struggling to find his form.
They never highlight the good moments between Henry and Reyes (I won't even bother to mention them); they would rather dwell on the ones that clearly suggest otherwise. Players have a right to express their disappointments as long as it is not with ill intentions towards a team mate, and does not affect or undermine the flow of the game; or degenerate to what happened with Newcastle players. Reyes himself reacts by putting his hands on his head in disbelief when Henry misses glorious opportunities of scoring. If Henry feels all the things people are suggesting, would Thierry after an intense argument with Reyes during our Bayern game, when we were loosing, and with every player so worked up, finally allow Reyes to take a free kick. For one it's Henry leading the pack and sticking up for Reyes, showing his admiration for him and what a talent he is in the wake of all the controversies surrounding Reyes these days. Surely Henry showing this kind of support for Reyes should be enough proof for all those searching for God knows what.
I will end this long article by appealing to fans to remember that the burden of the whole team rests on all players. In life we do not pick on people's weaknesses but celebrate their strengths, for this helps them become the great people we want them to be. I feel this theory is how Wenger gets the best out of the players he has groomed.
Wenger believes Henry is being unjustly criticized due to the high standards he has achieved in the game so Lets stop building issues when theirs none. He is the present King at Highbury and not even these criticisms can take that away from him.