Whatís all the fuss about? The Case for Arsenal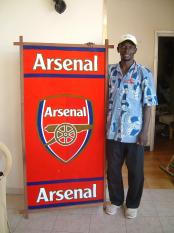 Gambia

By AJ The Gunner
March 30 2005

Arsenal have been heavily criticized for allegedly undermining Englandís prospects due to the small number of English players in the squad. AJ The Gunner deals with the issues raised for Arsenal Times below:

This issue is worth discussing as Wenger and Arsenal Football Club have come under fire since UEFA ruled that from 2006 all teams in the Champions League (and UEFA Cup) will have to field at least 4 homegrown players in their 25-man squads, and by 2008 that number will increase to eight (four of their 25 man squad will have to have been trained by the club and another four will need to have spent at least three years playing within that club's association).

The issue then became even more red-hot when Arsenal became the first team in English history to field a squad completely made up of overseas players (we are sure good at breaking records - 49 games unbeaten now this).

I really donít understand what the fuss is about, or why Arsenal is at the centre of all this fuss? What exactly is the issue here? Is it Youth Development, Foreign policy or The Future of The England Team?

NOT THE FAULT OF CLUBS

On the part of UEFA this quota is supposed to help ensure that players between the ages 15Ė21 years must have spent three years at clubs and also players are trained by clubs thus protecting the future interest of National football associations. But UEFA research shows that since the Bosman ruling came into effect in 1995 the number of locally trained players featuring in Europe's top flights has declined by 30 per cent. So why are they suddenly acting like it is the fault of clubs concerning this decline of homegrown players?

NOT A PROBLEM FOR ARSENAL

In response to all this, Liam Brady, Arsenal's head of youth development, stated that David Dein has said it would be a restraint of trade, as it is trying to make a level playing field when football has never been like that, and that Arsenal as a club would not have a problem in the first year, but do not feel it is the right way to go.

Arsenal over the years has proved that it is very committed to youth development for all itsí young players whether they are from England or abroad. If anyone wants to question whether Arsenal's youth policy is working then they should have a look at the results our young players produced in the Carling Cup at Everton and Manchester City.

On the part of the English FA I for one donít know what their attitude is towards Arsenal regarding our foreign players, especially after we fielded no English player in our match against Crystal Palace (Although Trevor Brooking refuses to attach any blame to the Gunners).

However, Gordon Taylor, chief executive of the Professional Footballers Association stated in an interview "that he thinks it is damaging for the England team; and that we have to give our players a chance, as it is a shame there is such a scarcity of players for the national team manager to consider at one of our top clubs. He added that even when everyone is fit at Arsenal, on merit there would be just two Englishmen". He further added, to my dismay, that "nobody can say Wenger does not do a good job for his club but that it is disappointing when Dein, a leading figure in English football, has spoken out against UEFA's proposals".

Overpriced English Talent?

Talking about merit, I find Taylorís statements totally absurd, is he suggesting that we get rid of our foreign players who have been brilliant at the club to make room for the English players. (With no offense intended, most have been major flops at Highbury). More importantly I'm not in any way having a go at English players, but the truth in recent years have shown that under Wenger we have not had the greatest success with our English signings. Overpriced Richard Wright, and in particular, Francis Jeffers are now struggling for a place in the starting line-ups of Everton, and Charlton respectively, are the most famous of big flops at Highbury.

This is mostly because they failed to live up to their transfer fees and I believe this is the problem when you buy players from the same league, particularly if they are young and exciting prospects for the country's national side. They usually cost a lot more than they are worth. Take Jeffers whom we signed for something around 10 million pounds and we eventually had to sell him for only 3 million (I am not sure we got that much. Ed) when he failed to make an impact. This is usually the risk you take with these hyped up English talents. They are English so the media in this country will inevitably hype them up as future England stars, and indeed it is like this all over the world. Occasionally you get some who do not live up to the hype or will let it get to their heads. Of course there are some that are worth the hype.

As regards the Premier Leagueís Academy system, which is supposed to help, clubs produce more home grown talents, Sir Alex Ferguson, for once, is in agreement with Wenger when he lamented that the system is threatening the future of English football as the rules states that a player who lives more than 90 minutes drive away cannot be signed up in a clubís youth system and this in effect forces clubs to look abroad for young talent.

Clubs should be allowed to pluck youngsters from anywhere, as especially in England they cannot rely on such a small cachement area to provide enough quality youngsters.

ENGLANDíS WEALTH OF TALENT

As for the issue that the future of the national team is threatened; never have England had so many stars as the present. Sven Goran Eriksson can enjoy the pick of more quality players than any of his predecessors. How can a country that has the likes of Rooney, Owen, Defoe, Johnson, Smith, Beckham, Lampard, Gerrard, Nicky Butt, Parker, Joe Cole Ferdinand, Bridge, Ashley Cole, Sol, Terry and so many others claim that their national team is going to suffer.

CLUELESS COACH THE PROBLEM

The main concern should be to address a coach who in my view has no clue whatsoever of how to get the best out of an excellent set of players. They should also worry about the threat Abramovich poses to English football. Mourinho should be aware, before entering the debate about foreigners, claiming his dedication to buying British, that he has spent more at Chelsea on foreign footballers than Arsenal have spent on their entire squad, neither has he actually signed any English players himself. Chelsea as a club have spent nearly £170m on foreign imports in their current squad. They pay more wages to foreign players than Arsenal. And Joe Cole, Wayne Bridge, Glen Johnson and Scott Parker can hardly be called first team regulars. If there was a combined transfer/wage cap of £100m, he'd be forced to play more English players in the first team, along with say Carvalho, Ferriera, Drogba who cost £63m, and shed some others from the £115m wage bill. That would instantly improve Englandís international prospects.