ARE THEY REALLY OUT TO GET US?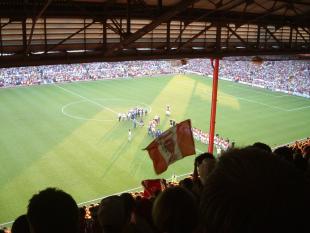 Flag
By AJ the Gunner
March 30 2005
Arsenal fans are not the only ones that feel they get a bad press; recently Man U fans complained they were given a bad press by old auntie Beeb herself over Glazer. But going 14 months with out a red card did give Arsenal a much-needed rest.
But the recent sendings off of Bergkamp, and Mad Frankie, and the fielding of an all-overseas squad has seen the press go into overdrive. Also there is the issue of crime and punishment by the FA, have we really had a fair crack of the whip from the FA. How can Bergkampís actions be worth a three-match ban, when Pruttonís horror tackle would have only got one?
Yes supporters of other teams donít bother to write in your abuse, I know we are paranoiac, but are they still out to get us? Yes we know itís done to sell papers and Sky, but its still bloody annoying.
AJ the Gunner discusses, slightly tongue in cheek, to get this issue of her chest in the article below.
Olosi or AJ The Gunner
Conspiracy?
There appears to be a hidden conspiracy (or perhaps its just a dislike of our foreign set up) against Arsenal and I donít know where the English FA and the Press fit in to it all. Yes I know the FA plus the Press cooed after us during our unbeaten run, or the praise we get from playing such beautiful football, but something is false and just not right here. The Press I do understand thrive on negative stories or like pulling people down to boost the sale of their papers, itís the build them up to knock them down tactic the press love to employ.
However itís not intention to insult the media though, but is it my imagination or do the headline seems to scream more, and the FA seem to stick firmer to the rules when Arsenal are involved. Are we the really the worst team with a disciplinary records or just scapegoats? (Well if you drag up our history since 1989 you can make it look that way, give a dog a bad name. Ed.) Or are we the only team that can provide the Press with juicy stories.
I think not. I mean if itís not "moments of unrest and decline at Arsenal" or "Wenger looses his cool" lately its "Indiscipline returns to Arsenal" or "its one player or another rumored to be leaving or Homesick", or "Arsenal is falling apart" or "Henry has lost his magic touch". On the side, some, leading members of the PFA and other bodies blame Arsenal for "too many foreigners!" or "itís dark days for English football" or "charges for violent conduct" or "use video replays" or "Get Mike Riley to officiate Arsenals games with Man Utd at Old Trafford". I hate to say this but thereís surely unfair treatment going on against Arsenal and the Press are feeding on it.
I would use a lot of recent incidents to prove my case, but the instances are so many that if one starts to recount them all another day may break. So I will content myself with just a few.How can one compare Bergkampís reaction, which earned him a straight red card (I am not saying he was right to do that) to the violence of Cullip on Fabregas that was ignored? Nor can one explain why the battering of Reyes at the hands of the Neville brothers earned only Gary a yellow card. What would the FA or the Ref have done if they were Arsenal players? Oh my... if the referee doesnít see it, video replays will do. There was a period when Sol was wondering if he could play football at all. Any move he made earned him a red card or video replay (Iíve seen worse from other players before).
The melee in the Chelsea and Blackburn game just earned the two clubs fines. But last season similar incidents at the end of our game at Old Trafford had The club fined hugely (remember the scuffle between England and Turkey was worse and they were fined ₤10,000) and several Arsenal players were fined and suspended. Didnít I see Gallas wrestle with some player or maybe my eyes didnít see clearly? Teams now bully and hard tackle Arsenal with little or no cards shown them and as a result many of our players are injured (e.g. Pires against Saints). Well who can blame them when Man Utd set the pace earlier this season, and the referees plus the FA has refused to put a stop to such actions creeping into the game.
Neville Brothers miss the ball.
I donít like to be picky but how did Phil Neville amass his 60th yellow card for United against Portsmouth and yet has never been sent off (He is very clever at it Ed). Or how did Rooney manage to stay on the pitch the whole duration of the game at Highbury without being sent off. I mean no offense Rooney is a good player but why is he so protected by the English FA and Press, at the expense of others especially Arsenal Players. The referee was willing to succumb to Man U lobbying for him to stay on the pitch (claims suggest we do that a lot. Really? We are not so good at it, for it didnít work for Dennis) But Bergkamp is booted out of a game and Video replay was needed to give Reyes a three match suspensions too (I am not in support of Reyes behavior, he was wrong to do it). Isnít this a case of double standards? If the FA were actually interested in doing anything about that match then they should have looked at the challenge that went in on Eboue as he played the ball back to Almunia or even the Cesc Fabregas tackle, both were worthy of investigations. Only Arsenal could possibly accrue a cumulative six-match ban for that kind of incident.
Back to the Rooney issue, he all but lost it in the England friendly match against Spain (granted the racist chants were ugly) but how does one excuse his disrespecting a great Liverpool legend by throwing the arm band worn in his respect on the pitch when he was substituted for his irrational behaviors...He is just a kid comes the reply. He needs to grow up. Imagine if a Gunner had done that? The press was most understanding, or dropped the issue like a hot brick.
Season Over
The Press is devoting all their energy on how our season has come to an end, it makes you wonder if we are the only news available. (One may argue that itís the prize we are paying for being damn too good last season)
Take the case in the Southamptonís game, in truth, Wiley should have shown both Prutton and Van Persie red for their first offences, not yellow. Prutton should have gone first (he tackled Flamini like he wanted him off the pitch. he eventually got Pires off). Even his eventual dismissal of Prutton only occurred after consulting his linesman, Paul Norman. Wiley was close enough to make his own decision. This led to the confrontation with Prutton who twice pushed Wiley in trying to get to Norman. Eventually, Prutton was bundled away by Redknapp and his back-room staff. Yet many papers still led with VPs sending off and Arsenalís disciplinary record!!
I canít help but feel that if it was Van Persie, or an Arsenal player, that manhandled a referee, or went off at match officials, holidays would have been cancelled, and shifts extended long into the night as newspapers put together a special breaking news edition of the day with headlines screaming "Arsenal player goes psycho on referee".
Despite the disgrace of the Prutton incident it was Arsenals disciplinary records, Wenger and the Arsenal football club that made more headlines. Or what if it was Wenger that made a gesture to the Liverpool fans or to the press as Mourinho claims. Need I begin to imagine what the outcome will be ÖÖÖ.
I will end this rant by frankly stating that no matter what the case may be: ARSENAL PLAY THE BEST FOOTBALL ON THIS PLANET, WENT 49 GAMES UNBEATEN, AND FOR THE LAST TWO SEASONS, OR MORE, ARE NOT THE WORST WITH DISCPLINARY RECORDS AND MORE OFTEN FOULED AGAINST THAN FOUL OTHERS. SO GET OFF OUR CASE WE ARE NOT ABOUT TO IMPLODE AND WILL RISE ABOVE ALL THE ODDS.