AJ Replies I love the French But.....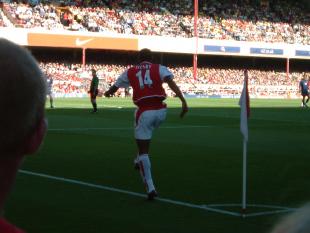 Henry
By Olosi or AJ THE GUNNER
March 30 2005
The following article is a reply to comments on a previous article. It is AJ s personal view; it is not the editorial policy of Arsenal Times. If you donít agree fine, unlike the redtops Arsenal Times is happy to publish your reply.
That is the point of a website fanzine, a place of debate between and discussion between genuine suporters. So why not send your view to Arsenal Times (see menu bar on left for email link.
AJ's reply:

I usually donít defend my articles as I give careful thought to all Arsenal news and activities on and off the pitch before writing my articles. But on this occasion I do feel that the thrust of my article on the wages policy, French Players and Ashley Cole has been misunderstood. In no way was it intended as "French bashing".
We die hard Gunner fans love our great club so much that sometimes we are so clouded by sentiments instead of facing the realities on ground.
I am not taking sides with all those taking swipes at Arsenal for fielding foreign players (I think itís a calculated attempt to destabilize us) nor Iím I taking swipes at our French players, but I still maintain that it APPEARS they are getting better consideration than the rest. This was never an issue before but now it has become a big issue. Players now go to the media complaining about what they feel they deserve i.e. Cole, Lauren, and Edu.
We certainly never used to hear Arsenal players talking to the media about such issues before (One could say that itís better all this is happening now so that we will know which players are still loyal to our cause).
I am definitely not saying that all top players at Arsenal should be paid the same wages nor giving the same contract extensions as every employment structure is dependent on services rendered. Based on this a player could be signed for a higher fee than others before him. If itís a case that defenders are not highly paid, then why is Rio Ferdinand paid very highly? (Or cost so much, also Sol Campbell was the highest paid for several years Ed)
Nor am I attacking our French players but simply stating what I PERCIEVE as preferential treatment of Arseneí to his French players, as I for one do not have any problem with our French players as they have indeed added flair to our game.
Pires is my favorite Arsenal player simply for his predatory instincts in the box. For an attacking midfielder he has an eye for goal. He gives a pass and follows it up. Yes he avoids tackles (can one blame him after the injury that kept him out of play over a long period?), but when he is in the mood, he flyís into tackles winning 50/50 challenges like he did against Chelsea. He simply isnít defensive and when he is not playing well should be out of the game but he is still my best because no midfielder in the premiership can boast of scoring the number of goals he has scored. Guess what, He is French!!!!!
Viera of cause has been a phenomenal player for us (if you can excuse his off and on form this season or his constant link with Real). He is the hinge on which our attack flows as many of our attacks go through him. I wonít forget his sweet partnership with his fellow Frenchman Petit nor will I forget Wiltordís goals for the Gunners.
Lets cast aside sentiments Arseneí seems to stick more with his French players otherwise how can we explain Cygan still at Highbury when we all know that his best is not just good enough. Lets face it many Gunners would like to see him replaced at Highbury. Can anyone also explain to me why Bentley, Pennant (I know his attitude is anti arsenal as discipline is primarily important) and many others are put out on loan, yet Aliadiere, when fit, is not. He clearly needs more regular experience and we all witnessed, this last season, when he partnered Thierry upfront against Liverpool. Thanks to Piresís sweet volley we secured a 2:1 victory. Make no mistake if he is given regular football and doesnít pick up injuries often, he will grow into a great Arsenal player. But I donít see the reason why he has not gone on loan in the past, when Bentley and others have. Does anyone remember Bentleyís sweet strike against Middlesbrough last season? Well Arseneí says (I agree) that Bentley needs to learn to command play like Fabregas and also he was impatient to wait on the side line. I guess thatís where the French players are better as they always patiently wait for their chance and time while still learning to play our style of football.
What I am just saying is that every player deserves a chance and a shot at first team a much as others and those who are no more junior players and are now world cup rated player and also rated as one of Europeís best should be treated as so in Arsenal. We should realize that its part of the prize we are paying for being so damn good during our unbeaten run.
I will end by reminding all Gunners that we have one player who has taken the English league by storm. The world called him "THE HIGHBURY EXPRESS" and for reasons best known to them denied him the world player award yet again.
I call him like some do "THE AIR FRANCE or simply TERRIFIC THIERRY"
At Highbury we call him KING HENRY. He is FRENCH and we love him, so quit accusing me of French bashing and face the facts of what appears to be the case and pray that loyalty and in the spirit of our great club that our players who are now rated highly in Europe do not leave because they feel they are not getting what they deserve, but stay at Arsenal.
For the records, I am a Nigerian and a Gunner for life but I face up to what sometimes appears to be serious issues and still stay true to Arsenal. I just ask that other Gunners can accept that, and expect no more than that of them.
(The original article is the first link below)