The French Legion Versus A Case For Cole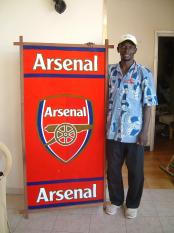 Gambia
By Olosi or AJ THE GUNNER
March 30 2005
Arsenal's football is all about passion, mental strength, total commitment, discipline and pride which indeed has been the catalyst for us producing an amazing attacking football that simply takes ones breath away.
The devastating speed and quick passing game is almost telepathic and is simply out of this world. In his post match reaction to the Valentine day massacre Arsene' commented that our performance was dynamic, creative, relaxed, and had a very positive individual performance. This individual performance blended together has produced a wonderful team spirit and an amazing collective display that has thrilled the world of football. We all know that when the whole squad turns up 100% for a game in the typical mood, hot and committed, one will behold a breathtaking high tempo game that will be crisp and produce lots of goals. This invariably means that in the field of play all the players, regardless of whether their French, English, Africans, Swedish etc, are equals and very vital to us, producing the football we all love to watch.
Arsene' has said before that he has a strict wage structure because he feels it's needed. If that's the case then why is he willing to insist that pay his top French players the highest wages at the expense of other top players? We all know what Vieira, Thierry and Pires are earning (They all happen to be French, in the case of Thierry I don't really mind, even though Pires is my favourite player.) needs to realize that this wage structure and short contract extension, which used to work before, is now posing a potential problem, which requires an improved treatment of a lot of players before it escalates, and affects the whole team. I make this case as regards Ashley Cole, as we are on the verge of losing him to Chelsea. Arsenal has always pulled out all the stops to keep Vieira at Highbury. This started with the increase of his wages to get him to agree to a contract extension, which he eventually signed. However this has not prevented him from often threatening to switch to Real, as we all witnessed this beginning of this season. I believe this has set a precedent which has resulted in the Lauren, Edu, and now the Cole saga.
Ashley's situation is a little more complex as Chelsea's offer is staggering. Wenger conceded that if it comes down to money Ashley will go to Chelsea, so the tapping of Ashley is not the issue; as Wenger claims that this is not the first time a player has been tapped. My argument is that if we were willing to match Vieira's wage demands before, why can't Arsenal pull the same stunts to keep Cole. Wenger has already admitted how it's essential that the Gunners keep hold of one of our star performer's; and David Dein has already stated that the cash for players is separate from the cash used for the new stadium complex. After all Cole is now a top first team player, and for me age wise, Ashley is a better bet as he will serve Arsenal longer. He his home grown, and I see him as a potential future captain. If Vieira start his romance with Real again then Arsenal should cash in on him . (I just hope this absence of Ashley due to the recurrence the flu is not part of this saga and that he is still committed to Arsenal.)
I repeat without hopefully sounding like a broken record, that it is vital we keep Ashley; as he is one of the few English players that has come through the ranks and broken into the first team.
The confidence and performance of our squad are really closely knitted in a fragile emotional loyalty that the players have with Arsene, which at present, I perceive is not enough to keep a player at Highbury. Especially if offered a higher wage elsewhere, and if a player feels we are not doing enough to keep him. We all know that Vieira only stayed because Real did not offer him what he felt he deserved, not because of his love or loyalty to us as he claimed. This is something which I believe may break up this present squad which was built over the years and is now yielding fruits in our dynamic attacking football that blows teams away with total demolition.
Sven Goran Eriksson (purely to justify Chelsea's tapping of him) stated as regards this Ashley's saga that loyalty is important but contracts end and that is life in football.
True as this is, we have come to know that loyalty and commitment has played a vital role in building this present squad, which has brought us fans so much joy. These are crucial times in the dressing room, and with all these distractions, how we manage this situation may determine whether we will have the same competitive squad, with few additions next season or not.
As for making domestic history on Monday night when Wenger named a 16 - man squad featuring no English player, and the resulting brouhaha is a topic for another day.
Date: 18- 02- 2005
Time: 3:45pm