Did Wenger Gamble Wound Gunners?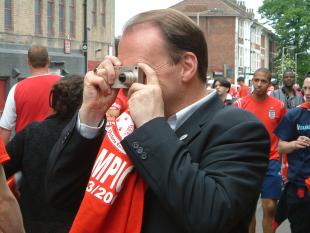 Champions
By AJ The Gunner
March 30 2005
Arsenal's collapse in the second half against Manchester United raises serious issues for Arsenal Fans. Below is the view of one Arsenal fan as to why Arsenal have failed to hold their title and what needs to be done to regain it:
Defeated twice by their fiercest rivals should Arsenal update and go for cruise missiles when there is no cash? The first match, although very ugly, ended their unbeaten run and the second has ended our title hopes. Not that Chelsea are likely to drop many points. But to finish third and have to play champions league qualifiers is grueling.
What can I say but emphatically repeat that Arsenal has always had limited options due to their small squad, which has been the case for a longtime. For how long shall we keep pushing our first team? This present team, in earnest, lacks steel, grit and experience because we donít have a strong bench, and the fact that we donít buy quality and experienced players. No offense to our young wonder kids but they still have two years to grab the necessary experience that grinds out results in games that do not swing to our rhythm.
We always give the excuse that Arsenal has no money and are building a stadium. Wenger says he will not put Arsenal in financial problems, yet he is willing to hang onto Edu [hoping he will be fully committed] rather than letting him go on a free transfer, because he wanted to sell him (Or at least saved on his wages. Ed). Wenger Argued that he had no time to shop for replacement when he should have started looking around for a replacement before the transfer window opened, instead of hoping Edu would sign. It is totally unacceptable.
Who could criticise Thierry for his game against Man U, and his goal drought, when he has already echoed what he reaffirmed today; that we have a limited and small squad, and that we need a strong bench because in any big competition its your bench that wins you things. I am not excusing an extensive drop of form by some of our experienced players, as it is so unprofessional, but the lack of depth in the squad contributes.
Frankly what more does Arsenal expect? Will it take a total collapse from this squad before the management realizes that with a limited squad they are not likely repeat the form and triumphs of last season.
Then there is our defensive frailties. It was obvious from the start of the season, but paid no attention to, what was bound to happen. We have conceded 29 goals and are out of the title race. Given that Wenger admitted to our poor defense, one wonders why he had to gamble from the onset as he chose to stick with Cygan [no offense to him because he his good, but not good enough for the gunners] instead of finding a replacement for Sol who was going to be out six weeks from the start of the season. His absence rocked Toure, and our confidence in defending. We were always bad at set piece so whatís the fuss now? We should have sorted it out during our pre-season friendly matches as we conceded set piece goals last season. [Surely Wenger did not envisage Toure and Sol out at the same time, but that could be the case against Villa].
With a small squad it was always a gamble going into a new season and believing that there wonít be injuries. We need two extra experienced two footed midfielders, two defenders who can play solidly in any position at the back and one complete striker that is two footed and can score with his head as well, plus a quality and tested keeper. I am not a fan of Jens simply because he cannot do two spring save dives. Almunia was unable to cope last night.
IN REALITY OUR LACK OF STRENGTH IN DEPTH IS REALLY THE MAIN REASON FOR THE SURRENDER OF THE PREMIERSHIP CROWN.
WITH ALL THAT SAID, ONLY ARSENAL HAVE THE SKILL AND TEMPO TO PLAY AT BREATHTAKING PACE WITH FAST PASSES AND DEVASTATING ONE-TOUCH MOVES. REMEMBER ARSENEí BELIEVES SPEED KILLS - AND IT DOES BECAUSE HIGH TEMPO CAN RATTLE, ROCK, AND SPLIT ANY TEAM AND CREATE MANY GOALS. SO WE NEED EFFECTIVE ROTATION THAT COMES FROM A LARGE SQUAD TO ACHIEVE THAT PACE WEEK IN WEEK OUT.
I REST MY CASE.
GO GUNNERS!
By: AJ THE GUNNER or OLOSI
Date: 02-02-05. 2pm