Player Ratings v Saints Routine Win Puts Arsenal 4th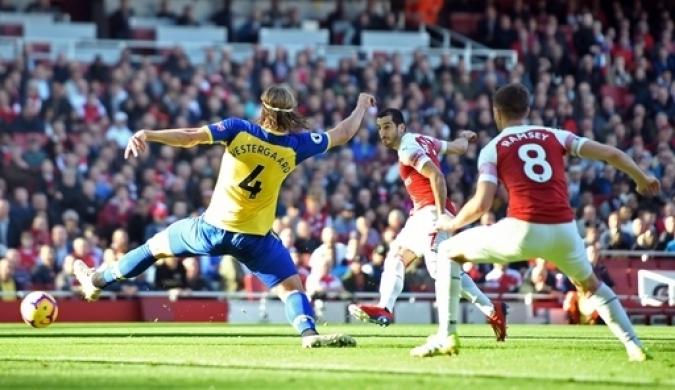 By Matt Sadler
February 24 2019
Sorry its late its been a busy day. Ended up being a fairly routine win which see's us move back into the top four. Played some really good stuff at times.
Ratings:
Leno - 7. Made saves in both halves.

Lichtsteiner - 6. Yeah did his job.
Mustafi - 7. Did well apart from when he tried to play Redmond offside.
Sokratis - 7. Good to have him back.
Kolasinac - 8. At his attacking best today. Should've had at least one assist.

Xhaka - 8. Very good, particularly in the first half.
Torreira - 7. Put himself about.

Mkhitaryan - 8. One of the best performances I've seen him have in a long time. "Made" one and scored one.
Ramsey - 6. Tried but didn't really impact the game.
Iwobi - 8. Dangerous down the left. Involved in both goals.

Lacazette - 8. Scored one and could've had a couple more. Real threat.

Subs:

Koscielny - 6. Didn't have much to do.
Ozil - 6. Ok without really impacting the game.
Aubameyang - 6. Same.
View a Printer Friendly version of this Story.
Player Ratings v Saints Routine Win Puts Arsenal 4th
Discussion started by Arsenal Times , 24/02/2019 19:11
Arsenal Times
24/02/2019 19:11
What do you think? You can have your say by posting below.
If you do not already have an account
Click here to Register
.
Edited 2 time(s). Last edit at 2019:02:27:11:37:43 by Padre Pio.
Padre Pio
24/02/2019 19:16
Agree about Mkhitaryan, it was a pleasure to watch him today


---

- until Wenger moves on, they'll always be the also-rans in the major competitions. A club in elite purgatory. Always good enough to make it to the big race, never fast or smart enough to push over the finish line in first place. That's all about the manager. Until he changes, Arsenal fans will continue to celebrate glorious failure.
Yes was at the game today (a rare occasion) and enjoyed the first 30 minutes after which we should have been 4 up. After that, a tad disappointing - Lac and Auba should both have had hat tricks. I thought Iwobi was our best player - always menacing when he got the ball. Hope his injury at the end was not too serious.
goonerred
24/02/2019 20:12
Iwobi played well, but didn't often have the final pass again but he was a handful, deserved his 8.
younghansolo
24/02/2019 21:36
Thought lichsteiner was great. First time he has actually looked like he was once a top player. One cross in particular that lacazette missed terribly from, was deadly.

Thought ozil created three great chances when he came on.

Aubameyang showed great movement but also missed a couple and should have scored.
I was extremely surprised by how good Xhaka played particualrly in the first half. he was solid, composed and spraying great long passes and opening up the play, even the commentators were surprised. Too bad the forwards didn't make the most out of it, if not we could have by much more.

Then he almost destroyed it all with that stupid pass across our own box which was well intercepted and almost resulted in a goal.

Leno - made crucial saves - 8, because without his saves, it would have been a very different game. In that sense he was a game changer. Proving to be a very good shot stopper.
Lichsteiner - 7, best I seen from him so far, lively
Mustafi - 6.5 one of his better games, won many headers too
Sokratis - 7, solid and commanding
Kolasinac - 7.5, a threat down the left and made a crucial block
Torreira - put himself about as usual, 7
Xhaka - 8, apart from that bad pass across our box, one of his best games
Ramsey - 5 hmmm, nothing worked and very slow. With his lack of pace he couldn't get away from the Soton players
Iwobi - 7.5 - not bad, but has to be better in decision making. Still unsure of what he needs to do a lot of times in advance areas
Mkhitaryan - 8.5, Dynamic and effective AM play. Involved in both goals. Why does he never seem to smile though?
Laca - 6 Scored but not one of his best days. Concerned, he has been missing some put-aways in recent games

Subs - 6 Auba - strange one, can see how he impacted play when he came on, but just didnt happen for him
Kos - 6 - not much to do by then
Ozil - 6.5 didnt do much apart from that one great play towards the end that Auba failed to capitalised on, but always looked a threat
younghansolo
25/02/2019 15:48
You're right, Xhaka was great also
We have always played better when Xhaka-Torreira is the midfield 2.
Sorry, only registered users may post in this forum.