Time for Emery To Mollycoddle Ozil?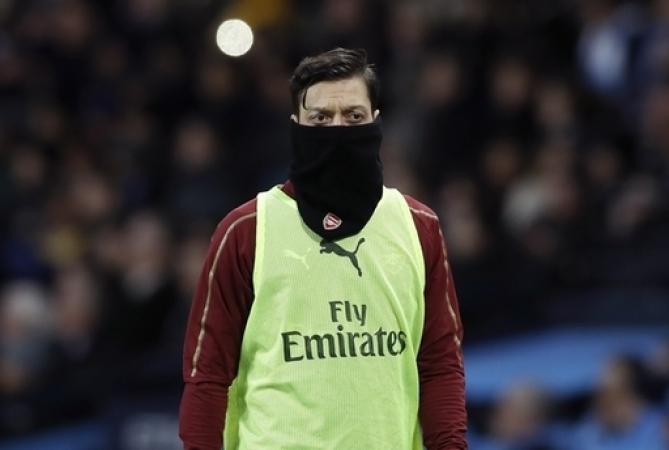 By Merlion
February 6 2019
Like Brazilians yearning to re-discover their carnival-like flamboyance and spontaneity in football as a reflection of their tradition and culture Arsenal fans of the past two generations are yearning for a return of the "One-touch One-Pass Breathtaking" WengerBall of the 1996 to 2006 Era where aesthetics is a given and winning with Beautiful Football is everything.
But there is a fatal flaw in the French Spine – lack of mental toughness and lack of grit to win ugly.
And when Ferguson discovered this fatal flaw, serial fouls, physical intimidation and hard tackles were fully deployed to upset the rhythm of Wengerball passing games. Other mediocre managers follow suit with Pulis, Big Mouth, Pardew and even Mark Hughes had successes against Arsenal too. Today, lesser lights like Burnley, Brighton and Cardiff followed suit with physical intimidation to disrupt Arsenal passing game.
Our failure to win consecutive titles and the CL Cup is the lack of mental toughness and grits during the wintry months. Arsenal failed virtually every season to slug it out to win ugly at muddy pitches and frozen pitches then. Of course, a thin squad is no help with plenty of injured, exhausted and mentally drained players when we hit the crucial stretch during February to April where titles and silverwares are lost and won. The debt burden of Emirates started to bite into the team from 2003 onwards.
The Decline of WengerBall actually started to decline from 2003/04 onwards, 'the Invincibles' were the height and the swansong, with no chance of rejuvenating the ageing squad. Errors upon errors in the transfer market and the failure of the Youth Project doomed Arsene Wenger to failure and reached its nadir in 2017/18 season. Silent Stan must be regretting that he listened to the siren song of Arsene Wenger begging for one last contract to put thing right.
The end result is that the new manager Unai Emery is settled with a squad of mediocre players on huge salaries and a civil war between him and the only creative player in his squad - Mesut Ozil.
The downfall of Arsene Wenger was his delusion that Arsenal fans care only about Beautiful Football and not winning. Instead, he produced a team that cannot win with style but just rollover and let every team walked over them in contempt.
The downfall of Unai Emery?
Will he betray the legacy that Arsene Wenger left behind that Arsenal fans expected Beautiful Football, that is, win with style and even when losing, not being taken apart by Guardiola Man City without a whimper of a reply, without even one shot on target in the 2nd half?
Or is Unai Emery is a limited and dogmatic tactician who does not process the forward-thinking of Guardiola, Klopp and Pochettino in flexible tactical formation to counter other tactical formation. Trying to force square pegs into the round hole of his tactical formation, playing high-tempo and quick passing football with mediocre players that:
cannot pass accurately,

lack tactical awareness to spot passing channels,

poorly coached to spot the runs of team-mates,

poor first touch and lack that skills to hold the balls.
It is a "Dr. Jekyll and Mr. Hyde" Team now – exhilarating football beating Tiny Totts 4-2 and Chelski 2-0, battling ManU and Liverpool to 2-2. But "Mr. Hyde" appeared after than 22-game unbeaten run, with us being torn apart by Tiny Totts, Liverpool, ManU and Man City, losing away to Saints and WHU.
During his 22-game unbeaten run, Emery had a fully-fit squad and able to vary his tactics during the 2nd half. But a decimated Back-4 destroyed his high-tempo passing game with wingbacks and a soft-centre that is so vulnerable to route 101 Football during counter-attacks. It was compounded when he split up his most successful Xhaka-Torreira partnership and they never rediscovered their early season form.
One must realize that during the 22-game unbeaten run, we averaged at least 2-goal per game and most of the goals are generated at the left flank with an on-form Kolasinac, ably supported by Holding and Iwobi, rampaging through defence setting up telling crosses.
And when managers woke up to that fact and devised counter-strategy during 2nd half of the season, Emery started to struggle, clueless, trying to find another tactical formation, and not helped by a decimated squad. Emery has 13 league games and at least 4 more Europa Cup games to get his tactics right. Otherwise, he is staring at 6th spot or worse and branded a failure by May 2019. Therefore, his priority now is to setup the squad to win the Europa Cup to be a success this season.
Mesut Ozil?
He must come to term with Mesut Ozil and setup his squad to harness his best attributes and to build the midfield to protect his weaknesses. Why is Emery that daft not recognizing that Mourinho got the best out of Ozil with Alonso-Khedira riding shotgun behind him, protecting Ronaldo and Ozil, both are not renowned for tracking back and put in a defensive shift? Plus, a hardworking De Maria running box-to-box down the right flank as well?
If Emery wanted to avoid another ignominy of zero "shot on target" during either half, he needed a creative playmaker like Ozil to support Lacazette and Aubameyang. In fact, Aubameyang had hinted he needed Ozil on the pitch. And how long will both Lacazette and Aubameyang be disenchanted at the lack of services and at Man City during the 2nd half, just half-heartedly chasing after balls and closing down defenders? A pair of despondent figures on the pitch with half-hearted effect during 2nd half.
It is time for Emery to make peace with Ozil, sit down and discuss a mutual plan to motivate Ozil to give his best, to support him and mollycoddle him like Arsene Wenger to give his best for the next 13 games, making him the "Main Man", "lynch pin of the team", etc. generally, to show trust in him to deliver on the pitch.
After reaching the pits at Etihad, there is nothing really to lose by playing Ozil at Huddersfield and away at BATE – a positive signal to Ozil that he is still trusted to deliver. Everything is to be gain if Ozil delivers. Failure to deliver again is the growing threat that Arsenal FC is ready to cut their losses to such an extent that allowing him to leave on a free transfer in the summer to give Unai Emery the chance to rebuild the 2019/20 squad he wanted.