Thanks for the Honesty Unai but it could be a long few years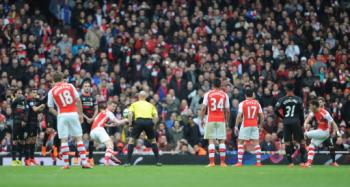 By Matt Sadler
January 10 2019
Had Arsene Wenger still been in charge, when questioned this morning about possible January transfers, he would've said something like "we are always looking to impwove zee sqwad wiv a special player wiv gweat qwality", probably to protect the board from criticism, and then proceeded to do very little.
When questioned about possible January transfers, new-ish manager Unai Emery, speaking about one of the richest clubs in the world, valued at £2.2 billion, with reported cash reserves of close to £200 million, ranked 6th in the Deloitte Football Money League with a total yearly revenue of £487.6 million, said we have no money to make permanent transfer and can only bring players in on loan. A club of our size and wealth can only bring players in this month on a temporary basis. Personally, I thank Emery for his honesty.
We have an owner who hasn't, and will continue to not, put a penny of his own money into the team. We're AT BEST the sixth best team in England and have no realistic route to the Champions League. We have a problem that Mesut Ozil earning £350k p/w who often becomes unavailable for unclear reasons, at sometimes key times.
We have the highest average age (27.3) of the Premier League's "top six", with a number of players like Cech, Lichtsteiner, Koscielny and Monreal, who's best years are behind them. We have a number of players, like Elneny and Jenkinson who are earning far beyond their level of ability who Arsenal can't shift because they like living in London/ playing for the team they love. We have two 28 year olds, Ramsey and Welbeck, who normally would be considered assets who could command a transfer fee if Arsenal decided they were not in the clubs future plans, who are going to leave for free at the end of the season, adding to a long list of players we've failed to get a decent fee for (Szczesny, Gnabry, Alexis, Wilshere, etc). Even in the summer Emery will only have a reported £70-odd million available for transfers.
Not good. Not good at all. Are there any positives? Maybe a few, yes. In Aubameyang and Lacazette we have two really effective forwards (who unfortunately I don't think we'll ever be able to make the most of). We have Xhaka and Bellerin, who have looked better this season and (I know Bellerin has been out recently) generally don't miss many games. We have three exciting young first team players (Mavropanos, Torreira and Guendouzi) who I'll mention again shortly. We have a number of youngsters, such as Maitland-Niles, Nketiah, Willock, Nelson, Smith-Rowe, Saka, Medley, Amaechi and Joel Lopez, who are really highly thought of by the club and could break into the first team over the next few years. We also have Barcelona's former Director of Football Raul Sanllehi and Dortmund's former super scout Sven "Diamond Eye" Mislintat.
So how are we going to move forward?
Those last two positives I listed are the most important, because I think our future largely depends on their success.
The one real plus to come from us being in the Europa League, from a personal point of view, is that we have been able to afford a lot more first team minutes to youngsters than we would've had we still been in the Champions League. Over the last two seasons we've seen the likes of Nelson, Nketiah, Willock and Smith-Rowe play quite a bit and emerge as potential first team players, currently on the fringes of our first team squad.
Sanllehi came with a very good reputation in football as a top negotiator. He has made an example out of Aaron Ramsey and his agent this season, perhaps signalling an end to our yearly contract sagas. Hopefully he will continue to be the catalyst for a change in our transfer and contract policies. Mislintat is another who came with a great reputation. He is credited with finding a number of players, such as Lewandowski, Kagawa and Aubameyang, for that Dortmund side of the early-2010s. Already he has found us Mavropanos, who fits the profile of the "top modern centre back" (tall, athletic, good on the ball) and finished last season strongly, Torreira, a pit bull warrior-like midfielder who has been a revelation this season, and Guendouzi, a 19 year old who plays like a mature, seasoned veteram and looks like a steal for £7 - 9 million.
Unfortunately it may not be the quickest or most effective strategy, but I think our best bet, and only real option now (unless Kroenke suddenly decides to sell up...), is to consolidate our place in the top 6, remain in the Europa League, shift the deadwood, bring down the wage bill and average age of the squad, hope old Diamond Eye can find more cheap gems, and hope some of our exciting youngsters can break into the first team squad.
It could be a long few years.