George Graham-loving Arsenal fan watches from Saints end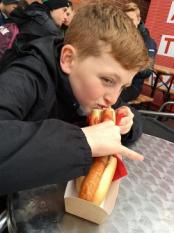 By Celine Dion
December 17 2018
Those of you that know me will realise that for the last 5 years or so, myself and Arsenal football club, once fervent and faithful lovers, have become strangers to one another, like a bickering couple in the twilight of a marriage.
Distrustful, resentful, barely on speaking terms. Partly because of my unfortunate relocation to the West Country, and largely because of my resistance to the evil reign of Arsene Wenger, it's true to say that very little would have enticed me to part with the large sums of money required to attend a top level football match. Instead, I have been content to trawl the desolate terraces of Exeter city, in the company of people like Mr Flava, who too has retreated from life and retired to Devon. The most excitement I have enjoyed football-wise in recent years, was a spicy away trip to Somerset giants Yeovil Town, where the highlight of the day was running into my son's geography teacher in the car park.
However, since the clubs liberation last Spring, it's true to say that, like many fat, balding George Graham-loving Arsenal fans of a certain age, the old juices have started flowing again, and a certain rekindling of the dying embers of my relationship with Arsenal has taken place.
Therefore, when a friend of a friend offered me two tickets for the Southampton Arsenal fixture, I thought 'Why the hell not?', and, keen to see the latest chapter of Unai Emery's refreshing new era write itself before our very eyes, myself and my son James were up bright and early, and after a brief and satisfying McDonalds breakfast, embarked on the tortuous train journey through the wastelands of the Westcountry, to sunny Southampton.
As it was James' first 'big' football match, I was keen for him to drink in every aspect of the day, so we arrived absurdly early and had a nosey around Southampton, which was bustling with south coast Christmas shoppers. For those of you that do not know Southampton, there are some quite nice parts of it, but the football stadium isn't in one of them. Indeed, St Mary's stadium sits rather incongruously at the heart of a large industrial estate. To one side, a sprawling concrete plant rises majestically to the skies, to the other, I give you several of those metal things that take things off ships ('ship cranes', I expect they are called) and all around are those little corrugated units where people in high viz jackets scurry around doing things like stacking pallets and reversing fort lift trucks.
Anyway we picked our way through this utilitarian landscape just in time to see the Arsenal coach arrive. James was terribly excited by this development, even though the exercise involved little more than observing the backs of several Arsenal players stepping off a bus and through a door. He was then absolutely beside himself with awe when Matthew le Tissier walked straight past us in a rather smart red tie.
After the obligatory luncheon comprising ten pounds worth of mechanically-reconstituted meat products, we stepped into the ground. I may have forgotten to mention that we were in fact 'undercover' for the afternoon, amongst the Southampton fans. I have done this several times before, in my youth I was rather gung ho about such things, watching Arsenal from unlikely locations such as the standing Kop at Anfield, and perhaps rather unwisely, home areas of White Hart Lane and Chelsea. There are certain manners to be observed in these scenarios. If the home team score, and it turned out that they were to do this rather a lot, then you must stand up and clap. If Arsenal score you must stay sat down and concentrate on looking cross. Suitably briefed as to the etiquette that would enable us to enjoy the entire 90 minutes unmolested by suspicious stewards, James was ready for his first premier league game.
Of course, we all know how it went. How inconsiderate that the team chose my return to the fold, a milestone of reconciliation with the club following the end of Wenger's tyrannical reign, to turn in a startlingly Wenger-like performance. Almost like a purposefully nostalgic Wenger Christmas special, the team went through some classic Wenger routines. All that was missing, as one person commented to me afterwards, was 'Deckchair' Denilson prancing round the midfield. I often used to comment that Wenger's defences used to look like they had never played together before, and to be fair to Emery, in this case they actually HADNT.
This meant that the faithful old Lieutenant Laurent Koscielny was wheeled out for (one would hope) one last hurrah. Then some truly Wenger-like positional experimentation, with Granit Xhaka given the opportunity to confirm in front of live television audience, that he certainly isn't a central defender. The team engaged in a festival of sideways and backwards passing, with the gloriously ineffective Iwobi and the equally unproductive Mikhtaryan given free reign to roam backwards and forwards up and down the wings, passing the ball neatly back to Guendozi, who more often than not, would then seek out Leno with a delicious pin point pass.
Southampton had done their homework, their luck was in, invigorated by new management, they knew they had only to turn in a committed, workmanlike performance, and pop the balls out to their two very effective wide men, and the rest would take care of itself. Their first goal whistled into the net; a cross was slung into the box, and in a piece of defending that really took us all back down memory lane, Koscielny tried to reach the aerial ball with a head-high Karate kick. It's difficult to know precisely what he was expecting to achieve here, possibly he was hoping his leg would extend telescopically and pluck the ball from Ing's forehead. Anyway, it didn't, 1-0 to the Super Saints and cue wild celebrations from the locals and myself and James rising to our feet and clapping half heartedly.
We were able to enjoy Miktaryan's smartly taken equaliser at our end, after a superb run and cross from Monreal, one of the few times we really got in behind their defence. We celebrated by sitting on our hands and looking angry as possible.
But we were soon forced to rise to our feet again and applaud Southamptons second goal in luke warm fashion. This time I think you have to praise the cross and the excellent inch perfect looping header from Ings, but a more competent pair of central defenders would still have clobbered him in some way so that the looping header was never a possibility. Time seemed to suspend itself, before the natives once again went bananas all around us.
After a half time visit to Southamptons toilet facilities, where Christmas music is piped in whilst you urinate, we stepped out for the second half, which carried on in much the same way as the first. Lacazette offered little, and although Southampton didn't venture into our half to any great extent, you always felt that they could get something. After Mikhtaryan's frankly fortuitous second goal of the afternoon (more sitting on hands looking angry), the game could have gone either way.
Unfortunately, in his final misjudgement of the day, Unai bought on Mezut Ozil. This was unwise I feel, Ozil appeared distracted during his brief cameo. Possibly, this near Christmas, he was wondering which computer games he was going to get from Father Christmas. Equally, by now it was raining quite hard, and he looked as if perhaps he didn't want to fall on the ground and get wet. Sure enough, as he walked away from a potential challenge, as if he had suddenly spotted an old, dear friend in the main stand, the ball broke upfield, and despite Southampton only committing two men forward, the Arsenal defence somehow conspired to allow Charlie Austin a simple back post header, past a stranded Leno.
Although Leno conjured up vivid memories of vintage Ospina or Fabianski with his flailing arms, when you see the goal again, he really had no option. I'm not convinced by him, but I'm not sure he can be blamed for these goals. Anyway by now the natives were celebrating like it was the 1976 cup final all over again. We stood around for one last half hearted clap, then got the hell out of the place.
Positives? Torreira is a class act. I don't know how he makes some of his interceptions, he just appears in front of people when you think he's still standing behind them. He's so good actually, that I would be slightly concerned about how long the club can hold onto him, especially if we don't claim fourth spot. The other positive? Well, Southampton is a nice family club, I enjoyed seeing things from their perspective, and despite its brutal industrial setting, St Mary's is a decent ground. And, despite a three hour return journey including a hasty sprint to Southampton Central in what was by now a tropical monsoon, James said it was one of the the best days of his life. He's already planning some rather ambitious away journeys up North. I'm up for it, to be fair.
Southampton 3 Arsenal 2