LOAN WATCH Calum Chambers at Fulham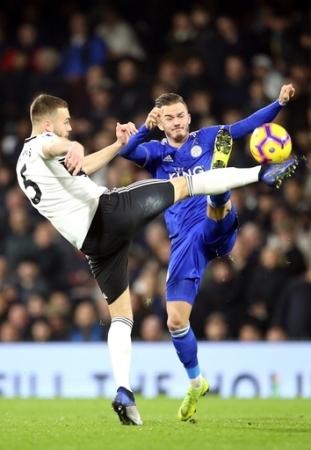 By Matt Sadler
December 6 2018
As somebody who has always taken an interest in our younger players and players sent out on loan, I was inspired to start doing a regular "Loan Watch" for the Arsenal Times forum by Carl Jenkinson's excellent form for West Ham during the 2014-15 season (how long ago does that seem now!).
Unfortunately, ever since, it hasn't been quite as rewarding largely due to the vast majority of our players out on loan struggling for form, fitness and/ or first team minutes. One previous loan watch star, however, is Calum Chambers, who had a very good 2016-17 season with newly promoted Middlesbrough.
Chambers is a young player I've always had time for. Yes, he can be inconsistent, prone to a lapse of concentration, and sometimes even overzealous, but over the last five years or so we've seen plenty of examples of what he is capable of. Crazy to think he is still only 23…
One such example would be Chambers' debut season here, where he was named Player of the Month for August, nominated for the 2014 Golden Boy Award, and performed well for us right up until a November horror show against Swansea, after which he gradually faded from the first team picture. Another example would be his previously mentioned 2016-17 season with Middlesbrough, where he formed a centre back partnership with Ben Gibson in a defensively strong side who were mostly relegated due to their lack of goals. A more recent example would be the end of last season, where he suddenly found himself in the side and performed well alongside Konstantinos Mavropanos.
Calum Chambers move to Fulham this season came as something of a surprise, as he had only recently signed a four year contract extension and had played a big part in pre-season, with boss Emery saying that Chambers "will be part of my plans this season". Rob Holding, who struggled for form last season, or maybe even Mavropanos, seemed more likely candidates. Despite this, just over a month after signing his contract extension, he joined Fulham for the season, with Emery saying "Calum is a talented defender who has a bright future. We all believe this loan at Fulham will be an important part of his development and wish him a successful season."
Not to worry though, another season like 2016-17 wouldn't do any harm. Unfortunately, this hasn't been the case. Whilst 16-17's Middlesbrough were strong defensively, but struggled for goals, 18-19's Fulham are quite the opposite, the highest scorers amongst the Premier League's current bottom 7, but have conceded the most goals in the league. Manager Slaviša Jokanović seemed to change his line-up almost every week, using five different centre back pairings in just 12 games, which couldn't have helped.
Whilst Rob Holding has finally found form again in our starting eleven, Chambers' season was going very differently, with him struggling against Watford and being pulled off at half time in a defeat to Cardiff, as well as being in and out of the team. However, it appears he may have finally found some consistency. In Jokanović's final game, against Liverpool, Chambers found himself starting in midfield and performed well. He kept his place in midfield for Ranieri's first three games, playing well in a victory against Southampton, being widely sounded out as Fulham's best player in their recent defeat at Chelsea, and playing well again in a draw at home to Leicester.
Apparently Fulham coach Scott Parker is the man behind the move, with Ranieri saying "I spoke with Scott Parker and he told me he could play there and I believe he is very good. He's intelligent and it's good for the team and for me". It appears that Chambers' versatility, something he has been well known for since his days as a youth player at Southampton, may have handed him a chance to save his season. "Collectively, he links very well with the defensive line and the forwards and he has good movement, he is attentive" Ranieri continued.
I'll be interested to see how the rest of his season pans out.