Ratings V Wolves Leno MOTM Lack of Urgency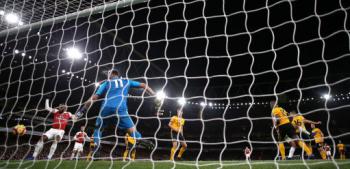 By Merlion
November 13 2018
The players lacked urgency in their play from the first whistle, What is the point of having 72% possession and Wolves score with their first decent chance?
RATINGS

8 - Leno - MOTM and very brave to make a double save and literally dived at the feet to save the rebound. Earned us a point by winning at least two 1-on-1 when exposed.

6 - Bellerin - trying hard and most of our attacking threats at right side before Mkhitaryan took over from Iwobi. Need to learn how to shoot straight.

6 - Mustafi - one or two dodgy moment but solid otherwise.

7 - Holding - Still raw and developing.

3 - Kolasinac - what a waste of space with his miskicks and passing to opponents. Holding was left exposed most of the time.

6 - Xhaka - simply can't focuss in a slow pace game but otherwise came good in 2nd half.

7 - Torreira - another excellent display and showed he got more strings to his bow. Nice shooting and decent playmaking ability. ALl players should learnt from him - K.I.S.S.

6 - Ozil - he simply was marked out of the game improved in the 2nd half.

3 - Aubameyang - Durham is right. Wtf October Player of the Month playing Sunday pub football on Sunday at the Emirates? Can't hold the ball, can't pass, can't get pass his man and missed a sitter.

5 - Lacazette - a headless chicken performance running here and there ... and oh yes, did he had a shot on target?

6 - Guendouzi - provide a positive impetus in midfield driving forward instead of playing tippy-tappy football passing sideway and backward all the time like 1st half. And if he continues to develop at this rate, Xhaka should be redundant next season.

SUBS
7 - Mkhitaryan - breathed life into out attack at right flank. One point for his accurate shooting (or crossing more like).

6 - Ramsey - can't see much of him. Give him a 6 for making a positive influence to driving the team forward.

0 - Unai Emery - One fat ZERO for performing no better than Arsene Wenger in trying to break down a well-organised and compact team that defence in number and able to hit you with a sucker punch during their swift counter-attack with flair players that can hold the ball, dribble and pick an accurate pass to a team-mate in the box.