Klopp Klipped? Player Ratings Torriera MotM and Match Report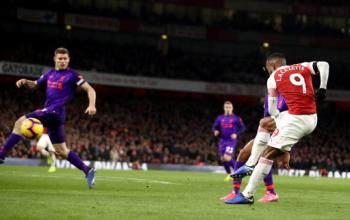 By Merlion
November 4 2018
It is long time since we saw an Arsenal team that has grit and plays with heart. Arsenal dominated possession but simply lacked a cutting edge with Aubameyang mistimed runs and leaving his shooting boots at home. Lacazette drifted in-and-out of the game but finally delivered as our resident fox-in-the-box.
The only jarring note in this symphony orchestra was an out-of-form Mkhitaryan, easily dispossessed of the ball, lacking the strength to hold onto the ball and simply out of tune with the team.
We saw that Emerian Football took off at Craven Cottage and now in full flow against a Top-4 Team, a game in which the Gunners dominated possession, dominated midfield and rendered the Fearsome Forward-3 into a whimpering stage of individual trying to string together 3 passes with no breathing space and instantly closed down by hook or crock to stop them from playing.

When anyone of them break-through, there is always a spare Arsenal player to close them down to gain that vital second to allow team-mates to get back into position.
A real team performance that knitted together MIDFIELD and DEFENCE into a compact unit.
Many players played above their potential, uplifted their game and stand up for the team.
Ozil played the Captain's game, driving and pushing he team into attack. Unai Emery realized that the reason why Ozil seemed to disappeared from the game is simply that no one feed him the ball to make him the fulcrum of the team. Like no one feeding the ball to Salah and Mane; for the simply reason Torreira-Xhaka Double-Pivot effectively cut-off the supply chain.

Back to Ozil.
The key is to make him the FULCRUM of the TEAM like today's game; the main man as No. 10 where he is the conductor to setup plays, control tempo and simply maintain possession of the ball. When off ball he put in a defensive shift, closing down players in Liverpool's half and always maintained a threatening presence, high up the pitch, to pin down at least 1 or 2 Liverpool defenders in their own half.

Make Ozil the FULCRUM of the team, start feeding him balls with Xhaka-Torreira riding shotgun behind him, and we have a winning MIDFIELD dominating possession with Ozil at his best as creative playmaker.

We have had too many numbers 10 and its time to settle with Ozil as numero uno; with the rest playing in support of Ozil.

It was the coming of age of Rob Holding, with Emery helping him to regain his confidence and to fulfil his potential. it will be criminal if Rob Holding does not build on this performance to become better and better. On this note, Emery is correct to retain Holding and sent Chambers out on loan.

Mustafi, Xhaka, Holding, Bellerin, Kolasinac, Xhaka, Iwobi, Ozil and Lacazette. All these players were retrogressing under Arsene Wenger.
And we can see them being reinvigorated under Unai Emery and his coaching staff. It was surprising to see Bellerin goes box to box for 90 minutes or more with a budding Clichy Engine under his belt.


MOTM?

Our Mighty Mouse Torreira, just shaded Xhaka, Mustafi and Holding with his fearless display in midfield, putting his body in harm's way, fine anticipation, interception and fierce tackling when necessary. He is irreplaceable like a pocket Vieira.

Ratings
6 - Leno - Mostly good but Lady Luck bailed him out quite a few times
8 - Bellerin - WOW! What a Clichy Engine. He can only improve and Barca needs to bid 80-mil to ply him away now.
8 - Mustafi - when he cut out his silly lurches and plays a "Captain's game". Much improve under Emery.
8 - Holding - WOW! Imagine this young lad keeping Salah quiet.
7 - Kolasinac - When he is focused and cut off his mistimed tackles and closed down players, what a fine wingback. Key is that Holding is the sweeper behind him.

8 - Ozil - Make him the FULCRUM of the TEAM as NO. 10 with Xhaka-Terreira as the DOuble Pivot to take care of defensive shield, breaking up plays and feed him the ball.

8 - Xhaka - when he is focused and battling it out with Liverpool midfielders, it showed why Wenger bought him. The key to his improvement is that he had a trusted sidekick who can bailed him out when players got passed him. No more silly tripping, shirt-pulling and last-gasp tackling to stop his man.

8 - Torriera - What more can we say about this One-Man Armoured Division that brought out the best in Ozil and Xhaka.


5 - Mkhitaryan - woeful, lack physical strengthen to hold onto the ball, easily disposed and really out-of-sych with the TEAM. If he does not improve, a strong candidate to be shipped out in the summer. He simply lacks fight like the rest of his team-mates.


6 - Aubameyang - Much promises in the first 20 minutes, but turned out to be a dud with his mistimed runs like Walcott and simply not sharp in his shooting. What ails him?

7 - Lacazette - one point for his goal. Traditional CF at his best with his abck to goal, has the guile to turn his man to create a split-second of an opening and scored. Other than that, a forgettable performance but cannot fault his work-rate in closing down players.

Subs
6 - Ramsey - anonymous and more or less like a training dummy to distract Liverpool defenders to draw players away from Laca in the box.
7 - Iwobi - an impact supersub that is at his best against a tiring Liverpool Defence and ageing mdifielders where his quick feet, ball retention skills and pace are vital in opening that scoring chance for Laca.

6 - Welbeck - too little time to rate, but loves his dynamism and willingness to run and closed down players.


9 - Emery - what a tactician against gegenpressing.

Klopp set up a team, betting his Forward-3 will tear apart Arsenal back-4 with their pace, telepathic understanding and individual brilliance that can win a game single-handedly. He set-up 4-3-3 and expected Wijnaldum-Fabinho-Milner to dominate midfield to feed the Forward-3.
But Xhaka-Torreira Double Pivot overwhelmed his Midfield-3 with Arsenal dominating the game in the first 30 minute of 1st half and almost the entire 2nd half in possession and completed passes. An awful and bewildered off-the-pace Fabinho did not help their cause.
Frimino was their No. 10 but was closed down easily and did an "Ozil" for majority of the match.

Tactician vs tactician and Emery came out top against Klopp.