Its Cech Mate For Walcott Player Ratings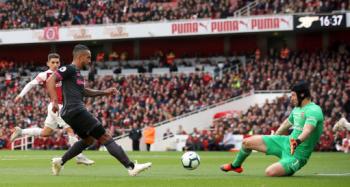 By Young Han Solo
September 24 2018
Overall I thought we were incredibly fortunate to get anything from the game. Everton would have been out of sight had it not been for Cech and I think there's still something missing in our mental preparation.
However, it's amazing to see two strikers playing together and scoring though, even if it's not a 4-4-2 it reminds me of Campbell and Wright, or Smith and Wright. Both just want goals and to help each other.
Ratings
Cech - 9 MOTM. Confident at crosses, he was organising his defence and made two tremendous saves one on one. Without those saves especially in the first half, I suspect we would have lost.

Bellerin - 6. A better performance but still looked very shaky at the back. Especially in the first half. His crossing must improve its consistency.

Sokratis - 7. I really like this guy. Fast, non nonsense and clean. Shame to see him go off.

Mustafi - 6. A poor first half, clearly the weak link.

Monreal - 6. Not his bets performance, especially going forward but did enough.

Torreira - 7. Settled after an early card. I love watching him play, he's like a rash all over players. The boy can pass too.

Xhaka - 6. Thought he did well, couple of speculative efforts and decent range of passing.

Ozil - 6. I've seen some absolutely slate Ozil but it's the little things he does that are good. He just doesn't seem interested though. He's also started some sort of weird goal hanging towards the end of games. Almost as though it would cover a bad game?

Ramsey - 7. Two assists, and good movement. Always involved but needs to be more creative imo.

Aubameyang - 6. Probably the lesser of the two strikers, but still scores. Can't be upset with that.

Lacazette - 8. Worked hard and What a finish...again.

Subs
Holding - 7. Thought he did well to come on and keep a clean sheet.

Welbeck - 6 not on long

Iwobi - 6. not on long

Arsenal 2 Everton 0