The Malady Almost Lingers On A Tale Of Three Matches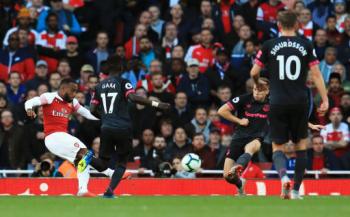 By Boris Mellor
September 23 2018
Last weekend I watched Arsenal beat Newcastle 2-1 away on a screen in the Dial Square Lounge at the Emirates.
It was strange that several hundred, possibly more, Arsenal fans didn't get to see the game at their home stadium as the lounge hasn't got that many seats. Indeed it was a bit like a lab in a sixth form centre, but instead of bunsen burners there were TV screens at every bench. Apparently they wanted to market the refurbished lounge, but why not also show the game in the Royal Oak where several hundred more could have enjoyed near heart attacks as Arsenal's defence sliced the ball about. Are they scared they cant fill up the seats? Or is it they just can't be bothered?
It was not a great match, and it was the sort of match Wenger would have lost, indeed he lost it last season by the same margin that Emery won it. A wins a win and we all went home happy.
Thursday the malady seemed to continue, the ground was clearly half empty, or half full if you are an optimist, for a team only train spotters have heard of, and a competition possibly less care about.
I can't remember Arsenal having a shot until about 26 minutes, when I think the first goal was scored, and what a peach it was, Mikky to Iwobi to Auba who passed beautifully into the net. Later in the match Arsenal were 4-0 up and with the match running down surely the malady was banished, but no, Lichsteiner managed to mess up in the box and it was 4-1, quickly followed by 4-2. Tha malady had lingered on in the shape of the glass jawed error prone panicky defence that find it impossible to close a game out. None of this is to blame Emery, years of poor defensive organisation and concentration will not be overcome overnight.
Today the ground was more full, but there was still quite a lot of empty seats, but a more than respectable attendance. Theo got a good reception, and he repaid us by heading like a moth to a flame when he got a one one with Cech. At the end of the first half Everton had more shots on target than Arsenal, it was 0-0, but there was no booing as the teams went off, the crowd clearly want to give the new manager every chance to develop. It was one of the most boring halves I have seen this, or any other season, the malady wasn't lifting. Indeed at times I could swear there were outbreaks of crab football.
In the second half Everton started very strongly and seemed the team most likely to score, but Cech was playing out of his skin and Torrieria was ably shielding the defence. It was against the run of play when Arsenal scored, but a beautiful goal was scored by Lacazette from a Ramsey assist. Not long after Auba had an easy finish from another Ramsey assist to make it 2-0. Better shooting could have seen the score even higher, but perhaps the first clean sheet this season was a more quantifiable milestone, even if that was mainly down to Cech. Hopefully this is an important step towards abolishing the malady that is Wenger's legacy.