Arsenal Embrace The Not Knowing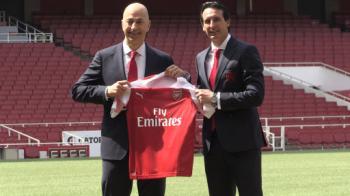 By Shane
August 20 2018
I don't know if anyone has ever explored the additional features of a DVD. I have on occasion. Sometimes I have watched the alternate endings of a film.
You still know the ending - but you don't know how it ends and I got that feeling when watching the Arsenal match yesterday.
For a while it looked set to be the same old horror story that we've seen at Stamford Bridge far too often under Arsene Wenger. I can't have been the only one who wanted to put both hands over their face and watch on by slightly parting the fingers when Chelsea went 2-0 ahead.
But then Henrikh Mkhitaryan scored and I thought, 'Hmm okay this is different. This bit doesn't happen in the 'other version'. Alex Iwobi then brought it back to 2-2 a few minutes later and I thought, 'Okay this definitely doesn't happen in the 'theatrical release'.
I didn't really think of any of these things by the way – I'm being metaphorical.
In the end it was the same old story because we wound up leaving the Bridge with zero points but don't tell me that this isn't exciting. Don't tell me it isn't exciting because in the other version we lose 5-1.
For the first time in many years we can no longer predict what's going to happen in the soap opera that is supporting Arsenal. We no longer know for certain how things are going to end. Hell, we no longer even know who the heroes are anymore, by virtue of the fact that Iwobi of all players had a cape on for some 75 minutes.
This is what you were asking for when you were asking for Wenger to leave. You were asking for change, good or bad. You were asking for something else. You were asking for a different script.
Embrace the not knowing, my friends. I am.
Chelsea 3 Arsenal 2