Iwobi MOTM? Emery Needs Time Player Ratings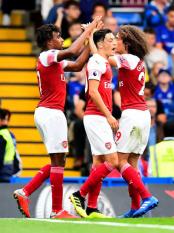 By Matt Sadler
August 19 2018
A difficult game to summarise and rate because so much went on. We started poorly as Chelsea battered us, completely overrunning our defence and midfield, particularly centrally and down our right side.
We found ourselves 2-0 down, but we were so, so, effective going forward, getting back into the game thanks to well worked goals from Mkhitaryan and Iwobi, and by the end of the half we genuinely should've been at least 4-2 up. As is proved time and time again, particularly in big games, you need to take your chances.

Second half we were battered for the most part, with the introductions of Kovacic and Hazard in particular changing the game. We had a brief spell after Lacazette came on, but it was brief, and Chelsea won it late on after more poor defensive play from us.

Not the result our spirited comeback deserved but there were positives to take.

A few more thoughts:

1) Bellerin needs dropping. Go back a few years and you'd have thought right back would be the one area where we'd have no worries for years to come, but he's off the boil. He has a strangely rigid body (not sure this is actually an issue but it just bothers me), sometimes he appears to have lost his pace yet other times he is like lightning, poor concentration/ positional discipline (got sucked into midfield too often), and his crossing shows no signs of improvement (going the other way if anything). At this point I can see without hesitation that Lichtsteiner is better.

2) Centre backs are still a big issue (surprise surprise). An issue we had last year was how slow our centre backs were, which makes the Sokratis signing seem so strange. We need to pace, power and aerial dominance - think Campbell and Toure.

3) I like Xhaka but he is currently getting outshone by a 19 year old, and it seems pointless to me having both in the same side.

4) I'm feeling the same way about Ozil being such a high earner as I was when Walcott joined the high earner club. I don't feel comfortable with someone who is so ineffective so often earning so much.

5) Really happy for Iwobi. Crap end product aside I have always felt he was often unfairly dug out, but he was excellent and finished the game with two goal involvements.

6) Emery needs time. Remember we have years and years of abject Wengerness to try and repair. It was never going to be done over just one transfer window with such a small budget and a number of players who need getting rid of. Next season, after he's had three transfer windows, I think we'll get a better indication. Yes, the defending is still embarrassing, but we seem to have more energy, the pressing is good, we attacked well and we showed great character. A Wenger side of recent years would've never recovered from 2-0 down against Chelsea. It would've finished closer to 4, 5 or 6.
Player Ratings
Cech - 6. Thought he could've done better on Chelsea's second goal but did well otherwise.
Bellerin - 3. Poor defensively, regularly caught out of position and going forward his crossing is so bad he might as well not bother. Worrying. Lichtsteiner needed.
Mustafi - 4. Poor on Chelsea's second goal and unconvincing otherwise in the first half. Better second half. Lack of pace an issue.
Sokratis - 5. Best of our centre backs but still not great. Lack of pace an issue.
Monreal - 6. Did well today. I liked his link up with Iwobi.
Xhaka - 4. Poor game, though funnily enough I noticed we were worse in possession when he went off, and no better defensively.
Guendouzi - 7. Continues to show so much at such a young age. Really assured on the ball and appears to have a little bite off it. Plays some unreal passes. Also, check the guy's reaction to Aubameyang's miss.
Mkhitaryan - 5. Awful start as he was largely to blame for the first goal, was poor on the ball and missed a sitter, but recovered well with a goal and an assist. Disappeared again in the second half.
Ozil - 4. Sick of him.
Iwobi - 8.MOTM I was surprised to see him start but I actually thought he was our best player. Positive and direct. Assist and a goal.
Aubameyang - 4. Ineffective in a big game, not for the first time, and was guilty of two misses that would even embarrass a Sunday league player.

Subs:
Torreira - 5. I liked some of what I saw but he was poor on Chelsea's winner.
Ramsey - 5. Created our best chance of the second half with a drilled cross/ shot, and came close from distance with a great effort. Put himself about but quiet otherwise.
Lacazette - 4. Made an impact off the bench as he played a big part in Chelsea's winner.