Xhaka-Torreira Pivot to Arsenal and Emery Success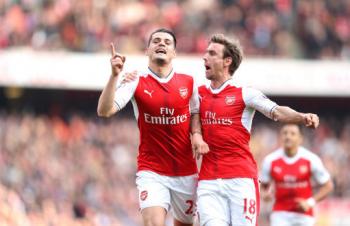 By Merlion
July 31 2018
The recent ICC friendlies exposed the fragilities of our Back-4, lack of pace and quick recovery on being cut through like a knife through butter by quick one-touch one-pass and one-two flicks performed by well-drilled young Spanish and French players with superb ball control.
All marquee teams have superb man-marker defenders who rarely allow players to get pass them.When Unai Emery consistently emphases on "high line, intense pressing and aggressive attacking" football, he is actually modelling after Jose Mourinho Real Madrid 4-2-3-1 with the tactical flexibility to change formation to deal with different opponents.
For example:
Against FC Barcelona, Jose Mourinho would force the ball away from Barca strongest right-side with Pique, Xavi and Alves, who were more adept building attacks from the back rather than Puyol-Abidal. And he would switch to man-marking with Xabi Alonso tracking Xavi, and Khedira tracking Iniesta.
Lucas Torreira and Granit Xhaka are our double pivot that are needed to shield Arsenal's Back-4, with Torreira providing pace and quick recovery and Xhaka with his intelligent reading of the game, positioning and anticipation to stop attacks from developing in the middle; like Xabi Alonso.
Ronaldo rarely tracked back to help out defensively. Jose Mourinho recognized this defect and solved it by deploying Alonso to cover behind Ronaldo. Alonso is an intelligent player; superb reader of the game and he compensate for his lack of pace by his anticipation and intelligence of knowing when to press and when to sit back to defuse a dangerous position when Ronaldo was caught out of position with left flank exposed.
Alonso-Khedira did all the defensive and tracking works with Benzema (or Higuain), Ronaldo, Di Maria and Ozil pressing in opponent half and well-drilled by Mourinho in positioning themselves to close off passing channels when opponent had the ball.
This is why, in a similar situation, a Torreira-Xhaka Double Pivot is vital to compensate for lack of pace, slow recovery and average man-marking skills of current Back-4 in Monreal (or Kolasinac)-Sokratis-Mustafi (or Chambers)-Bellerin (or Lichtsteiner).
You cannot leave £108-million worth of forwards on the bench and it is a no-brainer that Emery will play them together as they (Lacazette and Aubameyang) offer different attributes to the team – one with Henry-like blazing pace, an instinct for drifting to far post in goal-scoring position but lacks Henry's dribbling skills, the other superb ball control with his back to goal as a link-man holding the ball and a sniffer in the box. Aubameyang's electric off-the-shoulder running tends to disrupt defence leaving gaps for the likes of Ozil, Lacazette and Mkhitaryan to exploit.
As shown during those two friendlies, both Athletico Madrid and PSG easily bypassed Aubameyang, Mkhitaryan and Iwobi at left flank with a free run at Kolasinac or Rob Holding with Elneny or Guendouzi or Maitland-Niles nowhere closed enough to press instantly like what Alonso did at Real Madrid when Ronaldo was frequently caught out of position.
Jose Mourinho coached players when to press and when to sit back in a rigid well-organized and well-coordinated defensive unit. Most of all, he got lucky with an intelligent player in Alonso who read the game and the unfolding tactical situation on the pitch superbly.
Switzerland WC2018 squad also created an Alonso-like player in the utilisation of Granit Xhaka – with a tigerish and tough tackling Valon Behrami sitting behind doing all the dirties.
There is a reason why Arsene Wenger bought Xhaka, it is for his role as a deep-lying creative playmaker who can play deep as defensive shield with his fine reading of the game, controlling tempo of the game by switching plays with his accurate long passes, anticipation and interception by his positional awareness to close off passing channels. But Arsene Wenger forgot that he needed a partner like Behrami to compensate for his lack of pace, poor man-marking skill and oh, terrible tackling skills (I was wondering what went wrong. Editor).
I have not seen Torreira play in Serie A, but caught glimpses of him at WC2018. He is that counterfoil to Xhaka like Behrami. Like Khedira or Busquets, Torreira will release Xhaka to play ahead of him as a deep-lying playmaker to complement Ozil and Mkhitaryan playing high up.
For example:
When Aubameyang and Lacazette are both caught out of position, Torreira will move instantly to press RW running with the ball at our left flank in tandem with Xhaka moving into the space vacated by Torreira to tightly mark MF (8) from receiving the ball.
The chain reaction is started with Ozil moving left to the playing zone to block the passing channel to MF (6) and to anticipate CB (5) moving up to collect a pass.
Concurrently, both our CB move to close down ACM (10) and FW (9) in anticipation of a pass from RW (7) successfully passed to them. Bellerin will move inward to help out both CB to overload the centre 3 vs 2 defensively but positioned himself such that when a cross is successfully swing to LW (11), he can press him instantly.
If the team is well balanced and midfielders are well positioned, then Sokratis will move the entire Back-4 high up to catch FW (9) and ACM (10) in an off-side position.
The two friendlies have shown that the team and youngsters are still learning to press and how to position to block passing channels and in position to anticipate and intercepted passes. On numerous occasions, even with Guendouzi helping to surround the PSG player with three Arsenal players, the ball was not won and managed to pass out accurately to another PSG players in a dangerous zone, free to attack the Back-4 directly.
The various Double-Pivot combination in Ramsey-Guendouzi, Maitland-Niles-Guendouzi, Elneny-Guendouzi, Willock-Guendouzi and Maitland-Niles-Willock did not work out.
Ramsey-Guendouzi are too attacking-mind and always left the Back-4 exposed to Athletico Madrid counter-attacks; players so easily bypassed midfield and playing neat triangles just outside our box.
PSG players so technically superb in counter-attacking that they nullified a hard-running and pressing Guendouzi by simply passing the ball to leave an inexperienced Geundouzi out of position. Of course those two friendlies are an opportunity for letting the reserves and youngsters having an audition for their spot in the senior team. I suspect some like Maitland-Niles will have more playing time with the senior players for the next two friendlies against Lazio and Chelski.
The next two friendlies will identity Unai Emery's senior squad and the two main questions answered are:
Can Aubameyang play effectively together with Ozil to form a potent Ronaldo-Benzema partnership helping the German to rediscover his Real Madrid form?
Will Xhaka-Torreira thrives like Alonso-Khedira Double Pivot? We will have to wait and see, this is only one of many questions to be answered this coming season.