Can Emery Move Forward From Crab Football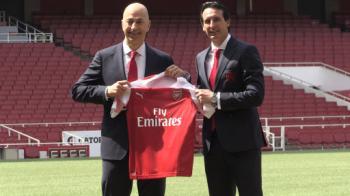 By Merlion
July 19 2018
It was the French Spine that spoilt Arsenal fans with "One-Touch One-Pass Breath-taking Football" that within four touches, went box to box, taking a shot at goal in less than 10 seconds. When teams stepped out at Highbury, they were not plotting how to get a result but how to keep the score down.
The Birth of Crab Football
The 2005/06 season was the start of the Era of Crab Football with Arsene Wenger attempting to emulate Barca Tiki Taka Football to such an extent that Arsenal became known as Barca Lite. But with the departure of Fabregas, Nasri, Van Persie, and with a chronically-injured Rosicky, it quickly degenerated into the Crab Football we have been watching ever since.
Unai Emery must sort out the following issues if he is to coach 2018/19 Arsenal FC to play his high-pressing attacking football. The current squad is not able to play one-touch one-pass football without highly technical players that can instantly kill the ball with one-touch and the next instant, pass it on. That is, within 4 passes, creating in the opposition box an instant shot at goal.
#1 – Pass out of Defence to launch Attack
How many times have the likes of Ramsey, Bellerin, Xhaka, et al brought the ball out of defence to retain possession and on being pressed lost the ball, the defence out of position an opponent running free at the goal and score on the break.
Numerous times we have seen panicky clearances, and miss passes, on Arsenal being pressed. The simple solution is to pass the ball out of defence. The three midfielders must synchronise their movement to create multi-channels for the defenders or goalie to pick them out. But very often there is no channel to pass the ball through to a team mate.
For example it could work like this:
Pass #1 – Sokratis passes the ball to Xhaka (or Torreira) between the lines of opponent's midfield and forward line.
Pass #2 – RB no. 2 and midfielder No. 8 moves forward to close down Xhaka; who in turn will instantly pass the ball accurately to Ozil at left flank, with Monreal moving forward into the space vacated by RB no. 2 to support Ozil. Xhaka will move forward to support attack with Torreira sitting behind him.
Pass #3 – RB no. 2 is out of position which in turn will force CB no. 4 to move forward to challenge Ozil. Spotting the gap left behind the defensive line, and with Aubameyang, Lacazette and Mkhitaryan running into the gaps left behind by defenders and midfielders struggling to get back into position, Ozil will cross the ball accurately behind the defenders.
Pass #4 – Aubameyang receives the ball at his feet and shoot first-time at goal. Lacazette is the decoy to catch the remaining CB in two minds with Mkhitaryan occupying the LB no. 3.
The key is the timing of the pass such that it will prevent the defensive line stepping up and catching Aubameyang off-side. An understanding will need to be coached amongst MIDFIELD and ATTACK to be aware of each other movement and desire.
#2 – Direct Football – Attacking through the centre.
In Torreira and Xhaka, we have two deep-lying playmakers who can feed the ball to Ozil who can play just behind Mkhitaryan, Aubameyang and Lacazette. We need the team to be well coached so that when Torriera or Xhaka have the ball, they can recognise an opportunity to pass the ball directly into free space behind a careless defensive line for a pacy Aubameyang to chase the ball.
The other option is for Xhaka to execute a long pass towards Lacazette , as the link-man, with his back to goal immediately passing the ball into the stride of on-rushing attacker threading between defenders and shooting at goal. We need one touch players who will pass forward.
#3 – Overloading the Defensive Line.
Many a time, we have seen Crab Football with 20+ passes sideway and backward to retain possession; but without penetration the final ball is intercepted by a bank of four defenders waiting for Arsenal players to misplace their passes. With all passing channels closed the predictable final ball through a narrow passing channel is easily anticipated and intercepted.
The fault lies in a poorly coached side, depending heavily on individual skill to get past defenders; and the intelligence of the players with peripheral vision to see the tactical situation at a glance with spatial awareness to instantly be aware of the positions of team-mates to create chances. We have only one player with superb peripheral vision and the spatial and tactical awareness to execute such plays on the hoof and split defences– Ozil.
But he is let down by a poorly coached team which lacks the vision to run into space, and to anticipate his passes into space. A team that lacks telegraphic understanding provides too many under hit passes or under-hit crosses behind players running into space; or hitting a ball into passing channel but no Arsenal player anticipating that pass.
What the team lacks, is as Wiltord said of the French Spine, "I can run into space with my eyes closed and knew that the ball will be delivered to my feet."
That is how Unai Emery needs to drill the team to be able to overload the opponents defensive line with pace, movement and mobility.
This requires a well-balanced team in case the attack breaks down and a counter-attack is launched to catch Arsenal players out of position.
Central defenders must not cross the centre circle but remain disciplined and be vigilant against Route One Football and counter-attacks, with Monreal, Ozil and Xhaka being caught high up, and Torreira lacking the time to run back into a defensive position.
Wenger's teams lacked the defensive discipline to maintain the balance between offence and defence all the time. Too many times Midfielders and defenders were caught too high up the field by a well sprung attack.
#4 – 4-2-3-1, or 4-3-1-2, or 3-5-2 with Auba-Laca Partnership?
Umai Emery preferrs to play 4-3-3, or 4-2-3-1. But with Aubameyang and Lacazette, the best option is to play 4-3-1-2 with Ozil at Number 10 behind two attackers, both of them with different attributes and complementing each other. Auba is a Henry-type player with blazing pace, off-the-shoulder running, able to run after a through pass between defenders, and gliding in from the flanks to attack the centre. Laca is the forward receiving the ball with his back to the ground, the linkman playing one-two with on-rushing attackers, and a "fox in the box" with a predatory instinct to snap up rebounds and at the right goal-scoring position in the box.
Lucas Torreira is the missing link that will bring out the best of our attacking midfielders and forwards. The main benefactor will be Xhaka who will be free to play as a deep-lying midfielder with a defensive midfielder behind him. Xhaka's best attribute is his intelligent reading of the game and anticipation but he lacks that pace and ferocity of Torreira in winning balls.
This is my 2018/19 Arsenal FC team, playing 4-3-1-2 or 3-5-2.
…………………………………Leno
…Lichsteiner …... Chambers ...… Sokratis ...… Monreal
………………….Xhaka … Torreira … Mkhitaryan
…………………………………Ozil
………………Lacazette……………….Aubameyang