Is There A Defence For Unai Emery?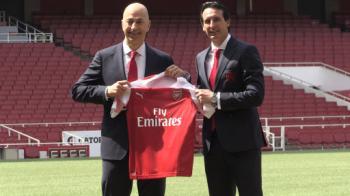 By Merlion
July 4 2018
Arsenal have, so far, signed right-back Stephan Lichtsteiner, German goalkeeper Bernd Leno and Greek defender Sokratis Papastathopoulos. This may go a long way to address the problems of a defence that leaked 51 league goals last season.
How will Unai Emery address this issue?
The first thing that comes to mind is that February 2006 quotation from Senderos after beating Real Madrid 1-0:
We attack as a unit.
We defend as a unit.
We are always talking to each other.
In other words, what Unai Emery will need to address is in these 4 areas – Control, Command, Communication and Chain-reaction.
Control, Command & Communication:
Last season Koscielny and Mustafi failed to provide any leadership or organizational ability. They were jittery defending against high balls, there was a lack of communication with Cech; the defence kept repeating the same mistakes in allowing both wingbacks to be caught out of position and failing to close the wide gaps between FB and CB and between CB.
There was no organizational ability to defend against set-pieces with opponents having a free run at goal to score with headers or free shots at goals from outside the box.
All these defensive mistakes really boil down to one glaring defect: No tactical and intensive set-piece training and defensive drills that train defenders into positional and spatial awareness of their fellow defenders, always keeping in touch with each other.
Sokratis is that kind of experienced leader we have needed for eons; which Koscielny is not. Lichtsteiner was part of a well-drilled Juventus 3-5-2 where he is more defensive minded and with Barzagli, Bonucci and Chiellini, all well-drilled and talking to each other to ensure they knew when to press, when to sit back and wait for out-of-position defender to get back into position.
Sokratis and Lichsteiner are vocal leaders, the kind that will assume control and command on the pitch, directing fellow defenders and midfielders to press and to cover areas left open when players are caught out of position. Again, another glaring defect that cost Arsenal dear was players out of position when being counter-attacked.
Chain Reaction:
In a tactical situation this is the term given when the defensive unit shift together to the ball-playing zone, keeping close to each other of not between 10 to 15 meters apart. Not too close but close enough to close down players and to intercept through balls.
For Example
If the opponent RB No. 2 is attacking down the left flank, Monreal will move forward to press with rest of defenders – Sokratis, Chambers and Lichsteiner – moving towards left, the Playing Zone, in a chain reaction, keeping about 10 meters apart. Sokratis and Chambers marking opponent No. 9 and No. 10, with Lichsteiner keeping an eye on LB and LW in case the ball is successfully swung over to them.
That is, always maintaining a numerical superiority against the opponent; and in this case three vs two.
What happen to opposition No. 11 and No. 8?
When Monreal moves forward and No. 11 moves forward, Sokratis will move forward to mark No. 11 and one of the defensive midfielder (perhaps Torreira ) will drop back to mark No. 9, with Xhaka moving into space in front of No. 10, No. 8 and LB No.3 to help out Lichsteiner to close down the space to guard against diagonal and forward passes into left-side zone.
With Sokratis, Chambers, Torreira and Lichsteiner, we still maintain a defensive numerical superiority 4 vs 3 against the opponent in the Back-Line.
Where is the high press?
When Monreal moves forward to press RB No. 2, either Ozil or Aubameyang will move towards RB No.2 to press and to cut-off his diagonal passing channel, leaving him with only a backward pass to his CB. Meantime, Mkhitaryan is the most forward player and move towards centre to cut-off any diagonal balls and to press those CB instantly when they receive a pass.
Ramsey will be in the centre of the pitch to block those cross-field passes from RB No.2 towards the non-playing zone at our right.
This is the "chain reaction" when the entire team is defending as a unit. Each player is well-coached and drilled to maintain discipline with spatial awareness of each other role and how to move in when any of our players are caught out of position.
In playing a high pressing game, it is always vital that the team shifted as a unit and knew when to sit back and when to press or closed down player instantly. Communication is vital with all four defenders shouting and gesticulating to any defenders and midfielders out of position and to recover immediately into their assigned position. And that is where we need intelligent players who knew how to delay attackers to allow team-mates to recover and run into position instead of blindly going into a mis-tackle, leaving the attacker with a free run towards our goal creating a loner defender vs 2 attackers situation.
Defending starts with our forward:
Defending high up on the pitch and intensive pressing starts with our forwards closing down the goalie playing to his defender, or not allowing CB time to pick his passes out of defence.
Like Guardiola's Barcelona, David Villa or Messi or Pedro will press the goalie or CB to limit his forward passes to the side, not allowing them to pass vertically forward. Defending starts by forcing opponents to the flanks and denying them time and space to spray vertical and diagonal balls.
Therefore, our forward-3 in Ozil, Aubameyang and Mkhitaryan will need to be drilled on their defensive duties in denying goalie and CB time and space to pick their passes out of the box.
When Monreal is moving forward to press their RB No. 2 who is running towards our half, then Ozil will need to move forward to close him down and limit his option to pass across the pitch. Torreira or Xhaka will help Monreal to press and to prevent RB No. 2 to pass forward and diagonal to No. 11 or swing a lob to No. 9.
Unai Emery and his coaching team will need to drill the tactical formation and spatial awareness into the 2018/19 Arsenal FC Team which was sorely missing for the past five seasons or more. Arsenal played gungho attacking football, believing that defending is to retain 70% possession football "keep the ball and they can't score against us". Well, we saw what happened to that 30% without the ball; leaking 51 no. league goals.
We now have vocal leaders in Sokratis and Lichsteiner to maintain organizational discipline and the tactical awareness to shout at players out of position.
Lastly, we have Unai Emery and his coaching staff to instill "chain reaction" into his team; a team that can now defend in its entirety instead of a disjointed team with players obsessed with attacking football, clueless on their defensive duties and out of position when being counter-attacked.
I can hardly wait for 11 August 2018 when we keep out first clean-sheet of the season (Against Man City? It's the hope that kills ya. Ed)