Four Legs Good Three Legs Bad More Players On The Way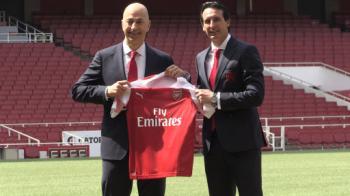 By Boris Mellor
June 27 2018
Usually this is called the end of the season event, and a series of filmed highlights are displayed on the big screen, but there were no highlights so we had a film of the coming season with new appointments, this included Freddy coaching under 23s. Now it's called the New Season Event, take a bow marketing.
Ivan Gazidis entered to a fanfare, an ovation, but no dry ice, after all he was the man who shot Liberty Valance. There was an eulogy for those who have now departed, some platitudes but mostly plongitudes. Lots of praise for the supporters, intros to backroom staff, including one waving from the balcony (He was looking down on us said Ivan.) and an emphasis on different way of signing players but Unai is involved. There were more players to come and would arrive in time for Unai to work with, including players identified by the coach, others would leave. Ivan appealed for unity and got a round of applause, a trick he learnt off the master, slight whiff of sulphur. Unai was interested in developing players which matched Arsenal's values. There was a new energy right across the club.
Unai entered to a massive standing ovation, but no dry ice, from the 700 or so present, probably for his incredible track record of not being Arsene Wenger
On Man City being first game of season Unai stressed the need for hard work and then more hard work. Ivan added we have mapped out the season and we are ready so bring it on. Dick, oops Unai, wants to see evidence of the commitment to a hard 90 minutes every day in training. He prefers to win 5-4 than 1-0 but 5-0 is even better ha ha everyone chortled. I can see some culture shock here, being expected to work hard for 90 minutes is a bit much. He then gave us his four legs exposition of what is most important for the club; 1. Organisation 2. Players 3. Media and 4. The Fans, it wasn't that fans were unimportant, but it's like a table you need all four legs, a three legged table is no use. Unai leaves stage right: Standing ovation, dramatic music, but no dry ice
Selection of Questions and Answers
Could Ivan clarify player recruitment
Ivan it's clear we have two technical experts, plus the coach and Raul dealing with contracts etc and Ivan, it's more collective. Ivan has the final say and takes his recommendation to board . The club needs the best in the world, Arsenal have a great respect in world football, we should be proud of our club.
Match day experience was bad last year. Could the club take season tickets off people who missed seven games in a row?
Ivan stressed importance of a positive match day experience and a serious consideration of introducing safe standing.
When will we see the women play here,
Ivan we have now made the team fully professional. And we will see the team play here. Praises Alex Scott and wonderful job she is doing in media and WC
What does Ivan think of Tottenham, which he passed on.
Do you aspire to the role of David Dein i.e. Replicate his role.
Ivan has known Dein for 20 years and has a lot of respect for him, but football is a fast moving world and much has changed and the game is now global. Roles are changing. Ivan wants to bring in World Class people. He demands full commitment from all staff, they should feel the club. But there are no guarantees on the journey ahead.
Or as Trotsky might have put it those who want guarantees should never become a football supporter, but the old double idemnity no money back guarantee on season tickets would come in handy.