Wenger Legacy Shambolic End Player Ratings Chambers MotM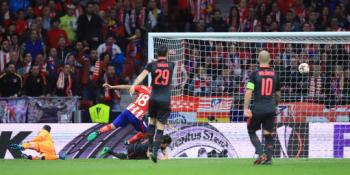 By Matty Sadler and Boris Mellor
May 3 2018
Poor defending, and toothless attackers, with meandering midfielders saw Wenger lose his 250th game in Europe, and any hope of a European trophy die. The only top manager not to have won an European Trophy, even GG has one, well two if you include playing days. Sadly for AW his legacy will be a conference centre with adjacent football pitch, but not a big cup. Once again Costa mugged an Arsenal defence, oh for a player like him. I am told they are offering £1400 for a ticket for Sunday's game for the final farewell. Either those offering it are mad, or I am for not taking it. Hopefully someone will play The Last Post. Boris Mellor
Matty's Ratings:
Ospina - 4. Nervous wreck in the first half. No communication, poor kicking and went down too quickly for Costa's goal. Made one good save in the second half.

Bellerin - 4. At fault for the Costa goal. Useless going forward.
Mustafi - 6. Troubled by Atletico's pace but managed to get by.
Koscielny - 5. Only played 10 minutes but was still pretty poor up against Costa. Arsenal career over?
Monreal - 4. Got forward a lot and saw a lot of the ball, but crossing/ final ball was poor.

Xhaka - 4. Range of passing wasn't good enough.
Ramsey - 6. Probably our best player for the first hour but went to pot after that. Tired and sloppy.

Ozil - 4. Couple of good spells in each half but nowhere near a £350k p/w player. Not enough of an impact.
Wilshere - 5. Okay but didn't influence the game.
Welbeck - 4. Looked asleep in the first half. No impact in the second half.

Lacazette - 4. Worked hard off the ball but little impact.

Subs:

Chambers - 7. Stretched but did really well when he came on. Stopped Costa and Griezmann scoring a couple of times.
Mkhitaryan - 5. One good chance.

Got into some great positions tonight but we never even looked remotely like scoring. Saw loads of the ball over the two legs but have nothing to show for it. Nowhere near good enough. I think Atletico have been pretty poor over the two legs as well, but the tie was settled by two rubbish pieces of defensive play. Sums Wenger's Arsenal up.

Season over.