Europe semi final means only one thing Player Ratings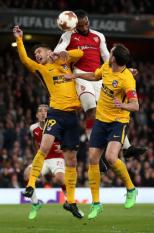 By Matty Sadler
April 27 2018
Yes it was that time again, lots of flags, crowd geared up and then a defender falls on their bum and it all goes down the toilet. It wasn't exactly deja vu, the last time it happened at the beginning of the match, this time at the end. The past weighs like a nightmare on the minds of the living, and its the hope that kills you, I would write more but I've just fallen off my chair. So without further ado the ratings:
Ospina - 7. Distribution excellent in the first half. Good save from Griezmann. Didn't see much of him in the second half.

Bellerin - 7. Got forward well down the right, particularly in the first half.
Mustafi - 6. Did well. Kept things simple, tackled, kept his head. Whereas...
Koscielny - 5. I could kill him. Thought he was having a good game but then, in typical Koscielny fashion...
Monreal - 6. Wish I could rate him higher as I thought he was quality, but someone tell me why one of our most experienced defenders was so deep for their goal?

Xhaka - 7. Quality on and off the ball, bar the shooting.
Ramsey - 6. Worked hard and tried to get forward but didn't really get into the game. Got nothing out of the referee either. Came close with two headers.

Ozil - 7. Wanted the ball. Tried to make things happen.
Wilshere - 7. In and out of the game at times but worked hard and got a great assist. Should've done better with a first half header.
Welbeck - 7. Played well, particularly in the first half. Came close to scoring.

Lacazette - 8. Thought he was superb. Good movement, worked his socks off. Went close twice in the first half before finally scoring in the second. Good in the air.

Thought he played really well on the night, even at 11v11, but Oblak had a blinder/ we didn't take our chances against 10 men, and then some shocking defended handed the advantage to Atletico. Tough to take.
More discussion and ratings here