Pin Ball Wizard Nacho MotM Player Ratings Arsenal v Chelsea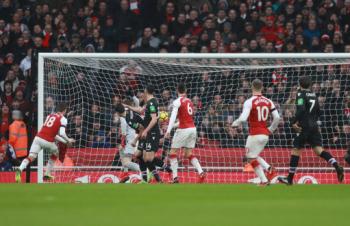 By Matty Sadler and Boris Mellor
January 25 2018
Ever since he was a young boy he played the silver ball From Manchester down to Brighton he must have played them all That Nacho Monreal sure plays a mean pin ball (apologies to The Who)
I just love great own goals, and Nacho induced one of the greatest I have ever seen, what a pin ball wizard.
The first half wasn't great but Arsenal played some really good stuff in the second and deserved the win and a visit to Wemberlee.
The Ratings:
Ospina - 6. Poor on the first goal, little to do otherwise.

Bellerin - 7. Got forward and defended well.
Koscielny - 7. Caught out on the first goal but played well in the end.
Mustafi - 7. Started poorly but settled and did well.

Monreal - 8. MOTM. "Scored" the equaliser and defended like his life depended on it.

Wilshere - 7. Quiet first half but had a good second half.
Elneny - 8. Very good. Good defensively and kept things ticking.
Xhaka - 7. Lost and ineffective in the first half but had a good second half. Scored the winner.

Ozil - 8. Took the game to Chelsea.
Lacazette - 7. Quiet first half but second half was very good. Led the line well and played a big part in Xhaka's goal.
Iwobi - 6. Good defensive work in the first half. So-so otherwise. Missed a big chance.

Subs:

Ramsey - 5. No impact.
Kolasinac - 5. No impact.
More Discussion and Ratings Here