2018 Starts with a bang Ratings v Chelsea Ozil MotM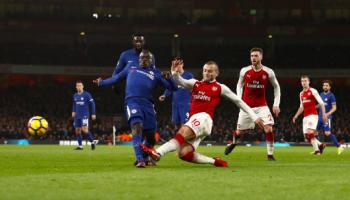 By Merlion
January 4 2018
I am glad that 2018 started with a bang. A most enjoyable match with plenty of action, controversies and never a dull moment, end to end stuff with both managers playing attacking football and not parking the bus. Brilliant goal-keeping that kept the score to 2-2 and of course, glaring misses from both sets of forwards.
We caught a glimpse of Arsene Wenger getting his act together and he knitted a team that can play one-two passes and one-touch quick-passing triangles. Cynically, I would said that Alexis is playing to his potential during January transfer Window to attract prospective employers (But not that well. Ed)

Ozil being Ozil, is having one of his best seasons with Arsenal FC (so far), perhaps it is WC2018 that he is eyeing as it may very well be his last hurrah on the big stage. Ozil is not daft as WC2018 is the greatest Football Bazaar on Earth where he can displays his wares and commands a last lucrative contract in the region of £300,000pw, plus at least a £10-million signing-on bonus, either from Arsenal FC or other buyer.

Lacazette is panicking and, under Wenger, may evolved into a mediocre French striker like Gervinho or Chamakh, and no better than Walcott, and really, more and more like ex-Watford striker, Luther "Miss-it" Blisset.

But the movement amongst Forward-3 Alexis-Lacazette-Ozil is a joy to watch when they are on-song like today. Pity that Alexis is showing his displeasure on being forced to stay by trying not to score, but spent most of his times trying to be playmaker, lobbing and crossing the ball and rarely take on players and drive directly into the box.

Most fans saw the negative in Xhaka but are forgetting that he is more of a playmaker who can anticipate plays and needed the presence of a physical players to complement him in tackling and helping him to close up passing channels. Jack Wilshere did exactly that, a terrier all over the pitch with Xhaka sitting calmly behind, executing his trade-mark lobs and spraying long passes; and has the intelligence to anticipate plays and close down players in the passing channels.

Jack Wilshere is at his best playing behind the Forward-3 and the link-man between Forward-3 and Xhaka / back-3 behind him.

Our Keystone Kop Defence?
Fingers are pointing at Mustafi, a senior player, who did not organize and lead the youngsters. But hey, this Back-3 is playing together for the first time, and under the pressure of the match, will commit silly errors simply due to lack of communication.

Chambers is not calm under pressure and made many howlers but his speed of recovery is good, like closing down Morata when running towards an open goal. But I prefer this combination with Koscielny terribly off-forma nd Monreal declining as well.
But Holding-Mertesacker-Chambers will not be too bad either as it is leadership nd organization ability that BFG will provide to forge back-3 together.

Maitland-Niles is definitely the future and Bellerin had the best game of the season. Perhaps Bellerin realized that he must up his game in 2018 to stand a chance to make it to WC2018?

In summary, a match where those disinterested and non-committal players woke up and realized that they needed to perform in 2018 to play in WC2018, and/or to attract prospective employers for next season.

Like Patrick Vieira did in Feb 2005.
RATINGS:
6 - Cech - declining but still commands the box and has great positional awareness.
7 - Bellerin - his best game and managed to beat his old nemesis Alonso on the flank.
6- Mustafi - showed no leadership or organizational ability.
6 - Chambers - mediocre and just not able to up his game.
6 - Holding - still learning and not ready to displace Monreal.
7 - Maitland-Niles - surely his best position is DCM?
7 - Wilshere - getting better but holding my breath that he will not suffer another major injury.
7 - Xhaka - quietly holding the centre and keeping Fabregas-Kante quiet.
7 - Alexis - well, he decided to play today.
8 - Ozil - MOTM
6 - Lacazette - Another Mr. Miss-it in the long line of misfiring Arsenal French forwards.

Substitutes:
5 - Welbeck - really no impact except running here and there and everywhere.
4 - Walcott - still manages to be caught off-side with less than 10 minutes of play.