Future of Wenger Ball, Creativity, Youth & Unpredictably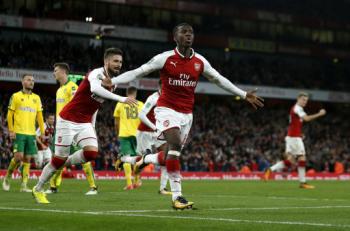 By Merlion
October 29 2017
The formation of Premier League in 1992 and the arrival of Eric Cantona dragged English Football into the modern tactical football and transform defensive 3-5-2 into attacking and entertaining 4-4-2 or 4-4-1-1 with No. 10 playing between the lines. Worldclass No. 10 likes Eric Cantona, David Ginola, Zola, Bergkamp and Juninho transformed English Football with their technical skillset, spatial awareness and football brain into a pass-and-move game .
It was Bruce Rioch that took the first step to transform Arsenal into a pass-and-move team from the midfield from a defensive George Graham's Arsenal that concentrated on winning the ball back, press as a team, deny the opposition space and have lots of off-sides. And it was Bruce Rioch that bought flair players like Bergkamp and David Platt to Arsenal. Arsene Wenger continued the transformation by bringing in Overmars, Vieira, Petit and Anelka.
Even then, Arsene Wenger exhibited a well-known naivety of ignoring the opposition and fielding a team as he wanted to play Beautiful Football, asking his players to press high on the pitch. In December 1997, a team meeting was called and Tony Adams demanded that Vieira and Petit must shield the Back-4. The rest is history with Arsenal being the first premiership team to win10 consecutive games.
The 1997/98 Arsenal Team is considered as the most complete English Football team, physical strength and powerful, melding tactical awareness into their high pressing game. Vieira and Petit concentrated on winning the ball, with Vieira sporadically surging forward and Petit's superb passing range from deep. Guile, creativity and unpredictability were provided by Overmars and Bergkamp with a quick Anelka as the deadly finisher and predator, a prototype of today quick and highly mobile centre-forward with spatial awareness and superb peripheral vision to play one-two with team-mates in the box.
The demise of Wenger's Arsenal started when the French Spine was dismantled after 2004/05 season with Patrick Vieira being shown the door. An indisciplined and egotistical Thierry Henry, with no leadership quality being appointed Captain, selfish with the entire team geared to serve him that every premiership manager knew that "Stop Henry, you stop Arsenal from playing''.
The decline accelerated with the Era of the Midget Midfielders, with Arsene Wenger obsessed with the Youth Project attempting to emulate Rinus Michels ''Ajax Model of Team Building'' and La Masia Academy to nurture and coach youngsters from academy to senior team to form the spine of his 2nd Arsenal Team. Many believe he is a deluded football purist, and a poor tactician, refusing to acknowledge that a team of technical players, lacking physical strengthen, commitment and grit, attempting to play flowing football will never out-battle premiership teams playing a physical intimidating and high tempo English Football with long passes and burly centre-forwards (and defenders) barrelling into the box, running over and out jumping lightweight midfielders and defenders.
Wenger committed the cardinal sin of buying marquee players Mesut Ozil in 2013 and Alexis Sanchez in 2014 which do not fit into the team, and just panicky buys like Perez to appease the fans. And Arsenal hit the pits in February 2017 when both Alexis and Ozil stopped playing for the manager; there was a rise ofresentment and disharmony in the dressing rooms and a team devoid of leadership, passion, commitment and grits.
Why has Wenger wanted to continue for another 2 years knowing he had a fractured dressing room?
The Red Star Factor
I believe he wanted to build his 4th Arsenal Team with this current bunch of Wenger Wunderkind 4.0, his finest crop since his Youth Project started in 2004/05 with Fabregas. He fielded an entire Arsenal "B" Team against Red Star Belgrade which is a good pointer of the future to come from 2018/19 season onwards.
The Red Star Belgrade game announced the 2nd coming of Jack Wilshere and the coming of, all of them, young, technical players comparable to European technical players. Wenger Wunderkind Mark 4.0 comprises Jack Wilshere, Bellerin, Rob Holding, Calum Chambers, Reiss Nelson, Joe Willock, Ainsley Maitland-Niles, Bielik, McGuane, Madividi, Nektiah, et al. It is possible that 7 or 8 of them will form the nucleus of Arsenal for the next 3 seasons. The next 2 seasons will be the last chance for Arsene Wenger to fulfil his obsession to build a 4th Arsenal team in the mould of 1970s Ajax, Fergie's Fledgings and Guardiola La Masia Barcelona.
In a healthy Jack Wilshere, he finally has a No. 10 who can play between the lines, has the physical strengthen to hold the ball, the guile and creativity to open up the defence and the unpredictability of his range of passing to play team-mates into open passing channels. Perhaps, a Reiss Nelson and Jack Wilshere partnership will recreate that Overmars and Bergkamp partnership.
But we need a lightning-fast and deadly predator like Anelka. We have Lacazette who is our fox-in-the-box and perhaps Madividi and Nektiah (Written before the Norwich fixture. Ed) can develop into another Anelka. But Alexis needed replacing and 17-year-old Nelson will need to develop this season like an 18-year-old Anelka and a 17-year-old Fabregas to takeover form Alexis in 2018/19 season. Welbeck, Iwobi and even Walcott are just good squad members, not a starter for any title-winning side.
Reiss Nelson has this whole season to develop into a senior player before Wenger will make a decision to attempt to buy marquee players like Thomas Lemar or Julian Draxler or Andre Silva or Brandt to replace Alexis. Chances are that Wenger will stick to his Youth Project and forgo buying marquee players.
Every time I have seen Joe Willock play, he is impressive and has the physique, spatial awareness and football brain to develop into a modern holding midfielder that has a fine passing range, goes box-to-box and does not shirk from physical confrontation. In a fiercely competitive squad comprises Xhaka, Ramsey, Elneny and Coquelin, this will only help Joe Willock to develop rapidly or sink into mediocrity.
We have only 3 holding midfielders in Coquelin, Elneny and Joe Willock, perhaps Bielik after completing his development as CB and in a 3-4-3, reverts to defensive midfielder to join in the attack as an advanced CB to overload the midfield. Wenger will not buy a specialist defensive midfielder when he is developing a squad of versatile midfielders in Ramsey, Maitland-Niles, Joe Willock, McGuane, Elneny and Coquelin who can play as wingback or centre midfield.
Mesut Ozil?
It is a tough call and there is a possibility he may stay and sign-on for another 2 or 3 years. If he stays, then Arsene Wenger must correct his error and builds the team around Mesut Ozil and not the other way for the past 4 seasons. It may be back to 4-4-1-1 or 3-4-2-1 with Ozil as the shadow forward or Bergy's Hole.
Like Eric Cantona, David Granola, Michel Platini and Zidane, all these No. 10 are not known for tracking back and put in a defensive shift. And Bergy was not known for tracking back too, leaving it to Vieira, Petit and Gilberto.
In the future, with Sanchez gone Arsenal may play with 3 lines with Lacazette as the Lone Striker and Mesut Ozil in the No. 10 free role, roaming the space between lines, setting up plays with his precise passes and linking up with a deep running Jack Wilshere as our No. 8, taking over the duty of box-to-box running and tracking back on behalf of Ozil. Unpredictability is introduced with Wilshere running in from deep and his creativity will combine well with Ozil and Lacazette's instinctive runs into goal scoring position.
The Midfield Line will have Xhaka (Ramsey as back-up to Xhaka) and Joe Willock (Elneny and Coquelin as squad member). Xhaka is valuable as a holding midfielder cum deep playmaker with his accurate long passes will surprise opponents when he changes play with one long pass. As long as Xhaka is not asked to play box-to-box, he is a good holding midfielder who will complement a tough-tackling and physical Joe Willock, who also has a good passing range.
If development goes according to plan, Bielik-Holding-Chambers will be our Back-3, physical and finally with muscle and height. Kolasinac will be with us for a while and Maitland-Niles or McGauane or Moore or other youngsters or new buy can take over from Bellerin should he eventually returns to Barca.
The future of Arsene Wenger for the next 2 seasons is not whether we regain Top-4, but how he will develop his Wunderkind 4.0 into another 1997/98 Arsenal Team, physically powerful, ready for a fight, leadership on the pitch and a passing team with guile, creativity and unpredictability.
View a Printer Friendly version of this Story.
Future of Wenger Ball, Creativity, Youth & Unpredictably
Arsenal Times (IP Logged)
03/11/2017 12:33
What do you think? You can have your say by posting below.
If you do not already have an account
Click here to Register
.
Sorry, only registered users may post in this forum.